Posted on
Mon, Jan 16, 2012 : 9:24 a.m.
Pasta with Shrimp and Easy Goat Cheese Sauce a tasty and fast entree
By Peggy Lampman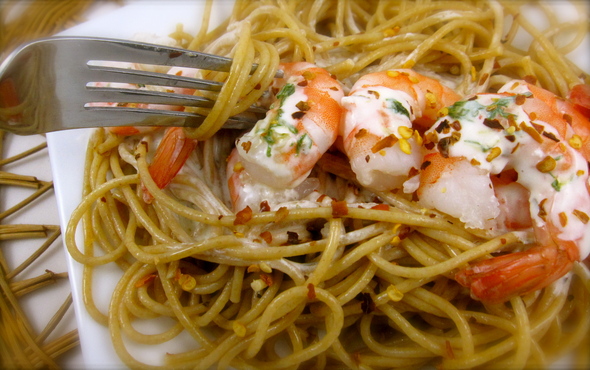 Peggy Lampman | Contributor

mean fighting machine!
Tonight's recipe provides a quick, easy way to make a creamy pasta sauce. I reserved a 1/4 cup of pasta water after the pasta was cooked, then ladled it right from the pot and into the sauce.
The water contains starch and flavor and helps the pasta adhere to the sauce when they are tossed together. Combining the hot water with soft, creamy goat cheese makes a delicious, practically instant, pasta sauce.
The recipe calls for cooked shrimp, which I had on hand. It wouldn't be a big deal to stir fry raw shrimp in olive oil before making the sauce.
Time: 15 minutes (if shrimp is cooked)
Number of servings (yield): 3-4 servings (with plenty of shrimp)
Ingredients
12 ounces spaghetti (I used whole wheat)

1/4 cup reserved pasta water (see above notes)

1 tablespoon extra virgin olive oil

1 teaspoon minced garlic

1 tablespoon fresh tarragon (1 teaspoon dry)

5 ounces soft goat cheese

1 pound cooked shrimp (see above notes)

Red pepper flakes
Instructions
1. Cook pasta in salted water according to package directions. Before draining, ladle out 1/4 cup boiling pasta water and reserve, keeping hot. (Don't ladle the water too soon, the water should be starchy; see above notes.)
2. Meanwhile, in a sauté pan, heat olive oil over medium-low heat. Add garlic and sauté 1 minute.
3. Crumble goat cheese into pan, and, with a fork, mash into the garlic and oil. Then add reserved hot pasta water. Combine pasta water and goat cheese and whisk until smooth. Stir in tarragon and shrimp and heat; season to taste with kosher salt and red pepper flakes. Serve over pasta.
My new web site has recently been launched (www.dinnerFeed.com)! I'm a real-time food writer and photographer posting daily feeds on my website and in the Food & Drink section of Annarbor.com. You may also e-mail me at peggy@dinnerfeed.com.