Posted on
Tue, Jan 24, 2012 : 11:11 a.m.
Peanut butter pudding is a luscious, creamy dessert fit for a celebration
By Mary Bilyeu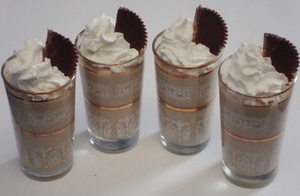 Mary Bilyeu | Contributor
It's National Peanut Butter Day, which is different than National Peanut Butter Lovers' Day and National Peanut Butter Cookie Day. Don't worry — there's enough love for peanut butter to cover every one of these celebrations!
Today I'm offering a luscious, creamy pudding to show case the fabulous flavor of the star ingredient. And who could go wrong by adding a bit of chocolate as a garnish? Especially when the chocolate comes in the form of Reese's peanut butter cups!
Whether you enjoy this rich dessert, an Elvis peanut butter and banana sandwich, some Asian noodles in peanut sauce, or some other dish, just be sure not to miss the party today!
Here are some other recipes for your festivities:
Peanut Butter Pudding
2 tablespoons cornstarch
1/4 cup brown sugar
pinch of kosher salt
1/2 cup water
3/4 cup half-and-half
1 egg
1/4 teaspoon vanilla
1/3 cup peanut butter
2 Reese's peanut butter cups, halved
whipped cream
In a 1-quart saucepan, combine cornstarch, brown sugar, salt and water; cook over high heat, stirring constantly, until it becomes translucent and gelatinous. Lower heat to medium. Slowly whisk in the half-and-half. Stir in egg and vanilla and cook until thickened, stirring constantly. Remove from heat and stir in peanut butter.
Divide the pudding among 4 small dessert cups, then cover with plastic wrap. Let cool completely in the refrigerator.
To serve, top with whipped cream and garnish each with half of a peanut butter cup.
Serves 4.

Mary Bilyeu writes about her adventures in the kitchen - making dinner, celebrating holidays, entering cooking contests ... whatever strikes her fancy. She is also on a mission to find great deals for her Frugal Floozie Friday posts, seeking fabulous food at restaurants on the limited budget of only $5 per person. Feel free to email her with questions or comments or suggestions: yentamary@gmail.com.
You should also visit Mary's blog — Food Floozie — on which she enthuses and effuses over all things food-related.


The phrase "You Should Only Be Happy" (written in Hebrew on the stone pictured in this post) comes from Deuteronomy 16:15 and is a wish for all her readers - when you come to visit here, may you always be happy.