Posted on
Mon, Dec 6, 2010 : 9:10 a.m.
Peggy Lampman's Monday dinnerFeed: (Poor Girl's) Seafood Etouffée
By Peggy Lampman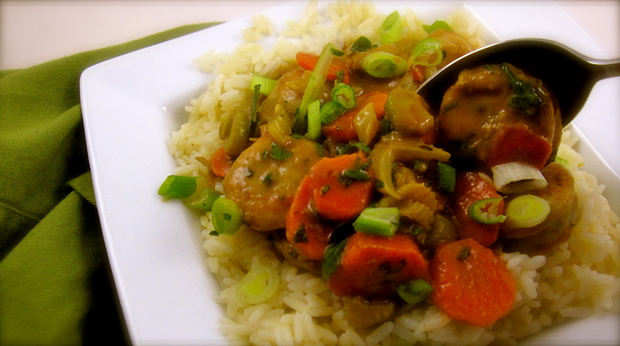 Peggy Lampman | Contributor

I purchased some seafood sausage at
Trader Joe'
s a while back, and it's taken me until today to figure out how to use the sausage to its best advantage.
I love etouffées made with seafood and sausage — why not incorporate this seafood sausage into a classic Louisiana specialty?
According to Wikipedia, the base of an étouffée is either a dark brown-red roux, a blonde roux (a roux that isn't browned as much) or simply onions cooked down in butter. Like many Louisiana dishes, onions, green peppers and celery (a combination often referred to as the holy trinity) form the base of an étouffée. It is usually seasoned with cayenne pepper, white pepper, garlic and salt and has a thicker consistency than gumbo.
This is my version of a "poor girl's" seafood etouffée. If I'd used shrimp, scallops or crabmeat, it would have added another $15 (at least) to the dish. The seafood sausage rings, somewhat rubbery on their own, are pretty dang tasty simmered in the dark gravy. My husband thought they were scallops, overcooked scallops, but scallops nevertheless.
Of course the darkened roux is critical to the success of a good etouffée, lending that inimitable nutty rich flavor. Like my mother taught me (was it 35 years ago? Yikes!), I always toast my flour in the oven. But you may also place the flour in a large non-stick skillet and heat over medium-high heat. Watch the pan carefully, stirring and shaking the flour, until golden brown, apx. 10 to 15. Do not let the flour cook too fast or it may burn.
Ingredients
1/2 cup all-purpose flour
2 teaspoons unsalted butter, optional
2 teaspoons extra virgin olive oil
1 pound seafood sausage, cut into coins
2 tablespoon white wine or sherry
2 teaspoons minced garlic
2 cups diced onion
1 cup sliced celery
1 cup diced green bell pepper
1/4 teaspoon each ground white pepper, red pepper, black pepper
1/2 teaspoon dry thyme
1/2 teaspoon Old Bay Seasoning
2 cups seafood stock
2 tablespoons fresh, chopped parsley
3 tablespoons chopped green onion
Cooked rice
Directions
1. Place flour on pan in toaster oven at 350 degrees. Bake 10 minutes; remove from oven and stir. Bake an additional 10 minutes or until dark brown.
2.

While the flour is cooling, heat butter, if using, and olive oil in sauté pan over medium-high heat. Sear sausage one minute on each side, remove and reserve. Deglaze pan with wine or sherry and whisk to scrape off any browned sausage pieces.
3. Reduce heat to medium low and add the garlic, onion, celery and green peppers, red, white and black pepper, thyme and Old Bay Seasoning. Cook, stirring occasionally, until the vegetables are just softened and fragrant, about 10 minutes. 


4. Sprinkle 2 tablespoons of the cooked flour over the top of the cooked vegetables. Stir to blend the flour and repeat with the flour in three more batches until it is fully incorporated and there are no clumps of flour. Add the stock slowly stirring continuously as the sauce thickens. 

5. If the sauce is too thick, slowly add stock, whisking in a tablespoon at a time, until desired consistency. Stir in reserved sausage and parsley. Serve over rice, topped with chopped green onions.

Looking for a specific recipe? Click here for dinnerFeed's recipe search engine; type the recipe or ingredient into the search box!