Posted on
Wed, Sep 29, 2010 : 7 a.m.
Peggy Lampman's Wednesday dinnerFeed: Chickpea-Cucumber Salad
By Peggy Lampman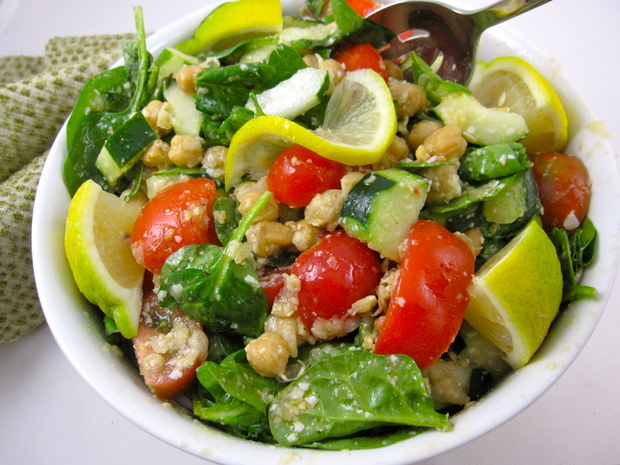 Peggy Lampman | Contributor

While shopping at
Hiller's
last week, I saw a chickpea (garbanzo bean) salad on their salad bar that looked delicious - one of those salads that made me feel healthier just by looking at it. I didn't purchase any as I had most of the ingredients to make something similar at home.
Here is my version, but I'd imagine theirs could be an infinite amount of variations on the theme - indeed, I've seen this type of salad at many delis across town with their own unique twist.
Protein-rich chickpeas are a marvelous pantry staple and are delicious reheated, chilled or served at room temperature. I used Michigan's own Eden Organic Garbanzo beans, which are available at most groceries.
Yield: 4-6 servings
Time: 25 minutes
Cost: apx. $9.50
Ingredients
1/2 cup extra virgin olive oil
2 tablespoons freshly squeezed lemon juice
1 teaspoon minced garlic
1 teaspoon anchovy paste or minced anchovies, optional
1/2 cup grated Parmigiano-Reggiano
1 (15 ounce) can garbanzo beans (chickpeas)
1 medium-sized ripe tomatoes, cut into large (1-inch) pieces
1/2 cup of basil leaves, torn
2 cups baby spinach or arugula
1 cucumber, peeled or striped with vegetable peeler; cut into 1/2-inch pieces
Directions
1. Make a vinaigrette by whisking together olive oil, lemon juice, garlic and anchovy paste or minced anchovies, if using. Stir in Parmesan.
2. Toss beans, tomatoes, basil, spinach or arugula and cucumber with vinaigrette. Season to taste with kosher salt and freshly ground pepper. if time allows, let salad sit 1-2 hours for flavors to combine.

Looking for a specific recipe? Click here for dinnerFeed's recipe search engine; type the recipe or ingredient into the search box!