Posted on
Tue, Mar 30, 2010 : 6:50 a.m.
Peggy Lampman's Tuesday dinnerFeed: Reduced-fat fettuccine alfredo
By Peggy Lampman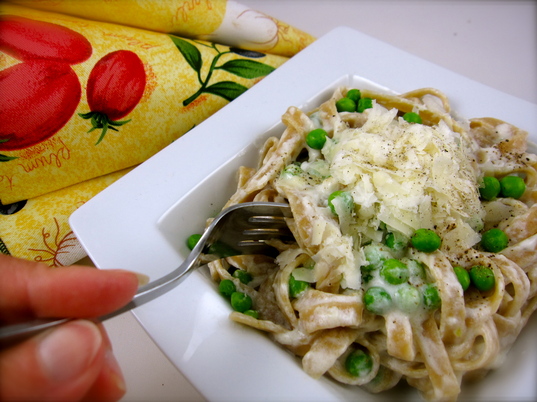 Peggy Lampman | Contributor

The crocus and hyacinth are making a splashy showing in the yard with tulips and daffodils nudging themselves through the soil.

The forecast is promising temperatures hovering in the seventies - if I could turn a cartwheel without breaking my neck I would. I'm even encouraged (with my husband, Richard's, pleas) to dust off my running shoes and reignite my New Year's fitness resolutions.
I'm resolving to hit the streets with Richard and embark upon a daily walking and "running" program. (Running is in quotes because no self-respecting runner would call my crawl a run!)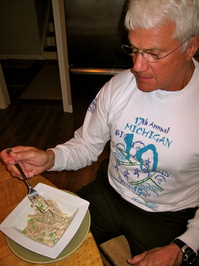 For further inspiration, Richard gave me his April edition of
Runner's World
which included a recipe for "Rocco's Fettuccine Alfredo."
Rocco Dispirito
is a reality TV veteran who was a guest chef on "The Biggest Loser." A good healthy carb load for dinner may get me through a run tomorrow morning.

There are few things I relish as much as fresh egg fettuccine tossed with a rich and creamy Alfredo sauce loaded with butter and top-drawer Parmesan. I also, however, relish the prospect of being able to zip up last year's summer clothes.
I have serious doubts that this recipe can come close to my Alfredo fantasies, but I made the recipe exactly to the spirit of DeSpirito's Alfredo. Don't be turned off by the tablespoon of real butter. A typical Alfredo to serve four could easily have a quarter to half a pound of butter in the recipe.
I made a few changes based on ingredient on hand. DeSpirito's recipe calls for 5 percent lowfat yogurt; I used 2 percent. I used the best Reggiano cheese I could find - it is the most important ingredient in the recipe. I also added frozen peas at the last minute for flavor, color and added nutrition. DeSpirito said the recipe serves four, but Richard and I consumed the entire recipe below, no problem.
The recipe is extremely "creamy" and flavorful, different than the full-fat Alfredo's I'm use to eating, but we certainly enjoyed the flavor and healthier attributes. I'm ready for tomorrow's run!
Yield: 2-4 servings
Time: 20 minutes
Cost: Approx. $8
Recipe adapted from Rocco DiSpirito's latest cookbook "Now Eat This!"
Ingredients
8 ounces whole-wheat fettuccine
1 cup frozen peas
1 tablespoon butter
1 tablespoon minced garlic
2 teaspoons cornstarch
Pinch of nutmeg, freshly ground preferred
3/4 cup chicken stock
3/4 cup Parmigianno Reggiano
3/4 cup 2 percent Greek (strained) yogurt
Directions
1. Bring a large pot of salted water to a boil. Cook fettuccine according to package instructions. Place peas in colander and drain pasta over peas to cook.
2. While pasta cooks, melt butter in a large nonstick saute pan over medium heat. Add garlic and cook two minutes.
3. Combine cornstarch and nutmeg in a small bowl and whisk in chicken stock until smooth. Pour into saute pan, raise the heat, and bring sauce to a simmer, whisking occasionally.
4. Whisk in 1/2 cup of cheese until melted. Remove pan from heat. Whisk in yogurt until smooth.
5. Toss fettuccine with Alfredo sauce. Season with kosher salt and freshly ground pepper. Top pasta with remaining cheese and serve.

Visit me on dinnerFeed for more more seasonal recipes and local value (recipe search engine on site.) Mini-recipes daily fed to you on my dinnerFeed Twitters.