Posted on
Thu, Mar 1, 2012 : 8 a.m.
Picadillo showcases Michigan flavors
By Mary Bilyeu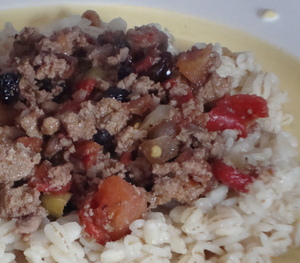 Mary Bilyeu | Contributor
It's Day 4 of my "Chopped" challenge, in which I had asked readers to suggest ingredients that I would then have to use in creating dishes. Today's dare came from Sarah, giving me a grand Michigan-inspired challenge:
"Oh this is so much fun! My husband and I joke that so often our kitchen resembles a 'Chopped' kitchen since I will go to the pantry and come up with something, even when it seems like there is nothing in the house that could even resemble ingredients for a full meal. I have ... come up with the following challenge — for the dinner round — orange Faygo pop, ground turkey and barley. I can't wait to see all of the scrumptious dishes that you come up with!! Time starts now..."
Well, I wasn't just told to use plain ol' orange soda; I was specifically given Faygo as one of the secret ingredients in my basket. Faygo is a Michigan classic, the company having been founded in Monroe in 1907. So immediately my thoughts turned to incorporating other foods from my state into whatever I was going to make.
I started thinking about Michigan's beautiful fruits, the tart cherries and blueberries that we are so noted for, which are grown primarily on the west side of the state. Perhaps a barley pilaf that would feature a touch of sweetness and color?
As I considered possibilities for combining the required ingredients with the dried fruit that I was now determined to include, I had an epiphany one evening: picadillo. Picadillo [peek-ah-DEE-yo], which translates to "make mincemeat of," is a dish that can be found throughout Latin America, with variations from one country to the next.
According to Wikipedia:" Cuban versions include peppers, onions, oregano, cumin, tomato sauce, olives and on occasion, potatoes and capers, and is usually sauteed in olive oil and white wine, depending on the region."
According to Epicurious, "Picadillo is ... made with ground meat, tomatoes, and regional ingredients." Well, how much more regional can it get than to use the Faygo orange soda instead of stock, as well as substituting blueberries and tart cherries for the traditional raisins?

I cooked with some Michigan wine — Leelanau Cellars' semi-sweet Winter White — and served the picadillo over the required barley rather than over rice. Each bite brings a little sweet, a little salty, a hint of spice, a unique melange. It's a fabulously flavorful dish with a Great Lakes State flair!
Picadillo

2 tablespoons extra-virgin olive oil
1 small onion, chopped
2 large garlic cloves, minced
1/2 cup chopped roasted red peppers
4 medium tomatoes, chopped
1 teaspoon dried oregano
1 teaspoon cumin seed
2 teaspoons kosher salt
1/2 teaspoon red pepper flakes
1 19.2-ounce package ground turkey
juice of half lemon
1/2 cup Faygo orange soda
1/4 cup plus 1 cup semi-sweet white wine
1/4 cup dried blueberries
1/4 cup dried tart cherries, chopped
1/4 cup green olives with pimiento, chopped
3 cups water
2 cups quick-cook barley
Make the picadillo: Heat the olive oil over medium heat in a large saucepan. Add the onion, garlic, red peppers, tomatoes, oregano, cumin, salt, and red pepper flakes; cook for 5 minutes, stirring occasionally, to soften the onion.
Add the turkey and the lemon juice; cook for 10 minutes until the turkey is no longer pink, stirring to break up the meat.
Add the soda, 1/4 cup of the wine, the blueberries, cherries and olives; bring to a boil and cook for 10 minutes until most of the liquid is absorbed.
Make the barley: Bring 1 cup wine plus the water to a boil in a medium saucepan. Add the barley, turn heat to "low," cover the saucepan, and cook for 10 minutes. Turn off heat and let barley rest for 10 minutes until the liquid had been fully absorbed.
To serve: Place barley onto a serving platter and top with the picadillo.
Serves 4-6.

Mary Bilyeu writes about her adventures in the kitchen - making dinner, celebrating holidays, entering cooking contests ... whatever strikes her fancy. She is also on a mission to find great deals for her Frugal Floozie Friday posts, seeking fabulous food at restaurants on the limited budget of only $5 per person. Feel free to email her with questions or comments or suggestions: yentamary@gmail.com.
You should also visit Mary's blog — Food Floozie — on which she enthuses and effuses over all things food-related.


The phrase "You Should Only Be Happy" (written in Hebrew on the stone pictured in this post) comes from Deuteronomy 16:15 and is a wish for all her readers - when you come to visit here, may you always be happy.