Posted on
Tue, Jan 17, 2012 : 10:58 a.m.
Classic Pot Roast needs an important ingredient: time to tenderize
By Peggy Lampman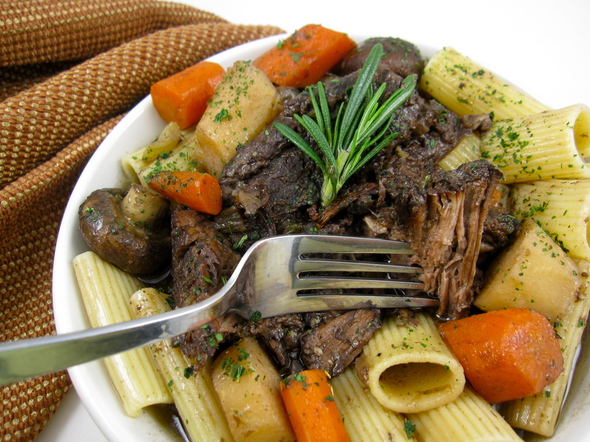 Peggy Lampman | Contributor

mean fighting machine!
We're in pot roast weather, and the only improvement I could make on this recipe would have been serving it over a bed of creamy mashed potatoes, tossed with butter and sour cream — or olive oil and Greek yogurt, depending on how your clothes are fitting. Alas, all I have is pasta, but that works too.
I cooked my roast in a Dutch oven, but I'm sure the results would have been delicious if I'd used my crock pot, as well. A missing link in the list of ingredients is time. Not just the 45 minutes it takes to organize and get the roast simmering, but 4-5 hours to allow the fibrous beef to tenderize.
Active Time: 40 minutes
Simmer Time: 4-5 hours
Number of servings (yield): 6 servings, depending on size of roast
Ingredients
1, 3-4 pound boneless English or chuck roast
1/2 cup all-purpose flour
1/4 cup olive oil
2 1/2-3 1/2 cups red wine, plus extra for de-glazing pan and rehydrating mushrooms
1 large onion, sliced
2 pieces raw bacon, cut into 2-inch pieces, optional
1 bay leaf
3 sprigs fresh rosemary or thyme, or 3 teaspoons dried rosemary or thyme, crushed
1/2 cup dried wild mushrooms, such as morels or chanterelles
3 stalks celery, sliced
1/2 pound carrots, peeled and sliced (or 1/2 pound baby carrots)
1/2 pound parsnips, peeled and sliced
1 tablespoon corn starch, optional*

Instructions
1. Aggressively season both sides of roast with kosher salt and freshly ground pepper.
2. Pound the flour into the beef with a meat mallet or small cutting board.In a large, heavy-bottomed pot or Dutch oven, heat the oil to medium-high. Brown the meat on all sides and remove to a platter. Deglaze pan with 2 tablespoons of wine, whisking the pan and sides to remove any browned, stuck bits of meat.
3. Reduce the meat to medium, add the onion and bacon, if using, and cook five minutes until most of the fat is rendered from bacon. Add the bay leaf, rosemary or thyme, and 2 1/2 cups of wine. Cook 5 minutes; return roast to pan, cover tightly and simmer 4-5 hours, turning beef over half-way through cooking time; add additional liquid if needed.
4. Rehydrate mushrooms to cover in red wine. Remove softened mushrooms from wine; chop and reserve. Add wine to roast, discarding sediment at the bottom.
5. In the last hour of cooking time, add the celery, carrots and parsnips. In the last 15 minutes of cooking time, stir in the corn starch mixture, if using, then rehydrated mushrooms. Simmer until meat and vegetables are fork-tender.
*If you'd prefer a thicker final gravy, before adding rehydrated mushrooms, remove 1/2 cup of sauce. Let cool a minute then whisk in corn starch. Before adding mushrooms to pan, whisk corn starch mixture into the simmering sauce, then stir in mushrooms.
My new web site has recently been launched (www.dinnerFeed.com)! I'm a real-time food writer and photographer posting daily feeds on my website and in the Food & Drink section of Annarbor.com. You may also e-mail me at peggy@dinnerfeed.com.