Posted on
Mon, Mar 12, 2012 : 3 p.m.
Raisin cookies - their simplicity may seduce you
By Mary Bilyeu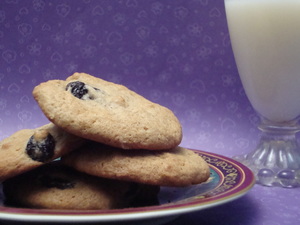 Mary Bilyeu | Contributor
Raisin Cookies. Not oatmeal raisin cookies, but just "
raisin cookies
."
These are my father's favorites. My family has been making them for more than 40 years, since we first found the recipe in a Highlights magazine at my dentist's office. They're simple, but fragrant and flavorful with cinnamon and fruit.
Sometimes you want a cookie with lots of goodies — chocolate chips, oats, nuts, candies, and all sorts of crispy, crunchy stuff. This is not the cookie to satisfy that craving.
Instead, these are the cookies you seek when you just want the comfort of an old-fashioned snack with a glass of cold milk. These are not the supermodels of the cookie world, sexy and glamorous; instead, they are the girl next door, wholesome and sweet.
You'll be surprised how they seduce you, how many you'll find yourself eating once you bake a batch.
Raisin Cookies
3/4 cup raisins
1/2 cup water
3/4 cup sugar
3/4 cup brown sugar
3/4 cup butter, softened
1 teaspoon vanilla
1-1/2 teaspoons cinnamon
2 eggs
2-1/2 cups flour
1 teaspoon baking soda>br> 1/2 teaspoon kosher salt
Preheat oven to 350 degrees. Lightly grease a cookie sheet.
Place the raisins and the water into a small saucepan; bring to a boil, cook for 5 minutes, then turn off heat.
In a large bowl, cream together sugar, brown sugar, butter, vanilla and cinnamon.Stir in the eggs. Mix in the flour, baking soda and salt. Stir in the raisins with the water.
Drop batter onto the baking sheet in dollops the size of walnut shells, leaving room for the cookies to spread. Bake for 12 minutes, until the cookies are golden. Let cookies cool on a rack.
Makes about 48 cookies.

Mary Bilyeu writes about her adventures in the kitchen - making dinner, celebrating holidays, entering cooking contests ... whatever strikes her fancy. She is also on a mission to find great deals for her Frugal Floozie Friday posts, seeking fabulous food at restaurants on the limited budget of only $5 per person. Feel free to email her with questions or comments or suggestions: yentamary@gmail.com.
You should also visit Mary's blog — Food Floozie — on which she enthuses and effuses over all things food-related.

The phrase "You Should Only Be Happy" (written in Hebrew on the stone pictured in this post) comes from Deuteronomy 16:15 and is a wish for all her readers - when you come to visit here, may you always be happy.