Posted on
Wed, Sep 26, 2012 : 8 a.m.
Raspberry Mustard Marmalade Sauce enhances poultry and pork dishes
By Mary Bilyeu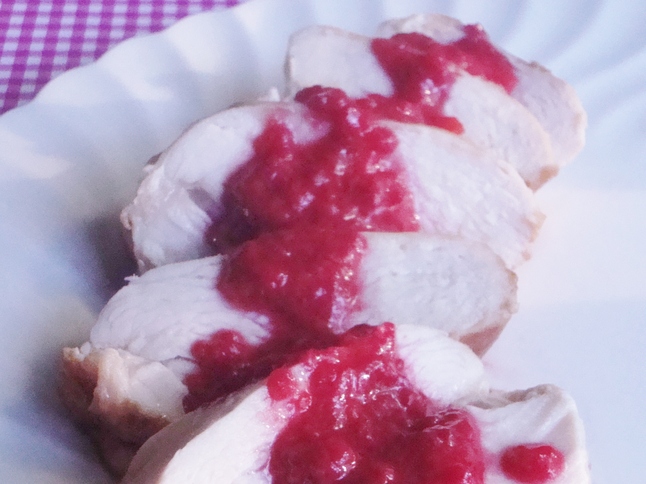 Mary Bilyeu, Contributor
After receiving some gorgeous, homegrown raspberries from a dear friend, I made a beautifully simple sauce to serve over some sliced chicken. I poached the chicken; but you could easily buy a rotisserie chicken and drizzle the sauce over that instead, to make things even easier for yourself.
The sauce smells so lovely as it cooks - sweet and tart with fruit and marmalade, with a bit of tang from mustard. And the color of the finished product is so intense! Whether poured over poultry or pork, spread onto a sandwich, served as a dip for chicken fingers, or any other use you can think of, this sauce is a great enhancement.
Raspberry Mustard Marmalade Sauce
1 cup raspberries 2 tablespoons white wine 2 tablespoons orange marmalade 1 tablespoon Dijon mustard pinch of kosher salt
Place the raspberries and wine into a small saucepan. Bring to a boil, then turn heat down to low; stir to mash the raspberries. Stir in the marmalade, mustard, and salt, then cook 1 more minute just heat through.
Makes about 2/3 cup.

Mary Bilyeu writes for AnnArbor.com on Tuesdays, Wednesdays, and Fridays, telling about her adventures in the kitchen - making dinner, celebrating holidays, entering cooking contests, meeting new friends ... whatever strikes her fancy. She is also on a mission to find great deals for her Frugal Floozie Friday posts, seeking fabulous food at restaurants on the limited budget of only $5 per person. Feel free to email her with questions, comments, or suggestions: yentamary@gmail.com.

Go visit Mary's blog — Food Floozie — where she enthuses and effuses over all things food-related; and look for her monthly articles in the Washtenaw Jewish News. "Like" her on Facebook, or send a tweet on Twitter, too.

The phrase "You Should Only Be Happy" (written in Hebrew on the stone pictured in this post) comes from Deuteronomy 16:15 and is a wish for all her readers - when you come to visit here, may you always be happy.