Posted on
Thu, Jan 24, 2013 : 6:53 a.m.
Savory Dutch baby is delicious for any meal
By Jessica Webster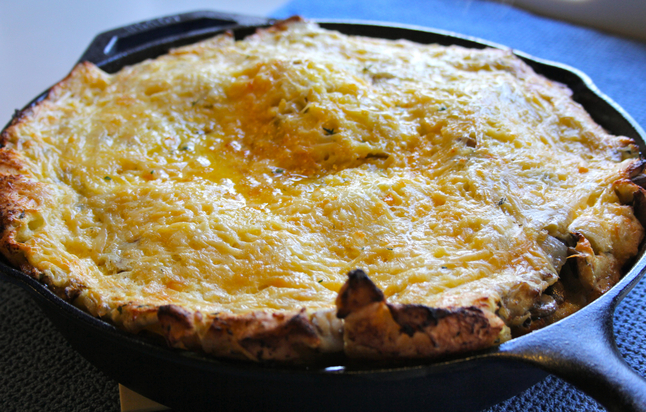 Jessica Webster | AnnArbor.com
When I was 16 and living in The Netherlands, my parents took us to on a day trip to the beautiful
walled city of Heusden
in the southern part of the country. The city was established in the 13th century, and the restored remains of a regal castle and other medieval buildings and fortifications are still on view.
But ask me now, all these years later, what I remember best about the historic city of Heusden, and I will tell you all about the pancake restaurant on the main city square. De Pannekoekenbakker had a menu filled with hundreds of variations of delicious Dutch pancakes, but my favorite by far was the "Kaas, ui en champignons" (cheese, onion and mushrooms) pancake. I still crave it.
My dad has been talking a lot recently about Dutch babies — sweet, poofy breakfast or dessert treats of German descent that are like the love child of a popover and a crepe.
Dutch babies, which are German (Deutsch) and not Dutch, are similar to Dutch pannenkoeken (following me so far?) in that they are eggier than their American counterparts and don't contain leavening agents such as baking soda.
Dutch babies are almost always served sweet, topped with powdered sugar. But what if I took a classic Dutch baby recipe and turned it into a savory brunch dish? What if I took the pancake of my dreams and made it even better?
The basic Dutch baby recipe is ridiculously easy. Just measure out some milk, flour, eggs and sugar into a blender, froth it up and add it to a very hot buttered cast iron skillet. Cook it in the oven until it browns, sprinkle some powdered sugar over it and go to town.
To adapt this to a savory recipe, I omitted the sugar and added a bit of salt and white pepper. For the filling, I simply sauteed mushrooms and onions with some fresh herbs and added them to the skillet before pouring in the pancake batter. I topped it all with some aged Gouda.
I used 18-month Gouda, which gave it a nice caramel, nutty flavor. A very young Gouda wouldn't give the dish enough flavor. Make sure to stay away from the generic red wax-covered Gouda for this recipe.
Mushroom, onion and Gouda Dutch Baby (adapted from a recipe on Food52.com)
8 tablespoons butter
1 medium sweet onion, diced
8 ounces button mushrooms, sliced
5 large eggs
1 1/4 cup whole milk
1 1/4 cup all purpose flour
1/2 teaspoon salt
1/4 teaspoon white pepper
1 cup grated aged Gouda cheese
1 tablespoon chopped fresh thyme
1 tablespoon chopped fresh sage
Preheat your oven to 425 degrees. In a large sautée pan, melt 2 tablespoons of the butter over medium and cook for 2-3 minutes, until it has melted and foamed up. Add onions and cook, stirring for 2-3 minutes until they begin to soften. Add the herbs, then stir in the mushrooms and cook for another 3-5 minutes until they are browned and softened as well. Remove from the heat.
Put the eggs, milk, flour, salt and pepper into a blender and blend them at high speed for about a minute. Stop, scrape down the sides with a rubber spatula, and blend for another 30 seconds.
Place the remaining 6 tablespoons of butter into a 12-inch cast iron skillet and put the pan into the oven. Wait until the butter is completely melted and bubbling, then carefully take the pan out and swirl the butter around to make sure the pan is coated.
Spread the onions and mushrooms on the bottom of the cast iron skillet. Pour the egg and flour mixture on top. Finally, sprinkle the cheese all over it and put it back into the oven for 20 minutes, until browned on top. The pancake will puff up as it bakes.
When finished, take the Dutch baby out of the oven. You can scatter more sage and thyme (or maybe chives) across the top if you desire. If you really want to be decadent, melt a tablespoon of herb butter on the top of the pancake as soon as it leaves the oven.
Serve hot, and enjoy.
Serves 4-6.
Jessica Webster leads the Food & Grocery section for AnnArbor.com. Reach her at JessicaWebster@annarbor.com. You also can follow her on Twitter or subscribe to AnnArbor.com's email newsletters.