Posted on
Mon, Jan 23, 2012 : 11 a.m.
Scallion pancakes portend bounty for Chinese New Year
By Mary Bilyeu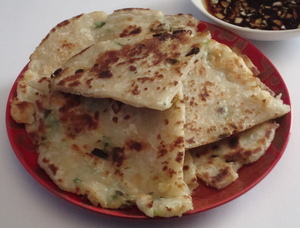 Mary Bilyeu | Contributor
Today is the Chinese New Year, so I'm serving something special in honor of the holiday. According to Wikipedia, celebrations involve buying presents, decoration, material, food and clothing.
It is also the tradition that every family thoroughly cleans the house to sweep away any ill-fortune in hopes to make way for good incoming luck. Windows and doors will be decorated with red colored paper-cuts and couplets with popular themes of 'good fortune' or 'happiness', 'wealth', and "longevity'."
Because this is the Year of the Dragon I'd entertained an odd notion of making something with dragon fruit, which I adore. I don't care so much for its flavor, which is fairly bland (in my limited experience, anyway, of trying it once), but I love its gorgeous colors. It's also filled with tiny seeds — reminiscent of poppy seeds — which would offer perfect symbolism to hope for many blessings in the upcoming year.
I'd thought about pureeing the fruit and perhaps making a sweet filling for dessert egg rolls. But since I couldn't find any fresh, frozen, or canned fruits despite searching through grocery stores and ethnic markets near my home and asking my very helpful friends at The Produce Station if perchance they had any, I had to make a new plan. (This photo was taken at a market in Pittsburgh in October ... a bit premature.)
I didn't want to resort to boring ol' fried rice — it's a great way to use up leftovers, but it's hardly celebratory or festive.
I wasn't feeling adventurous enough to make steamed buns. I found numerous variations on red bean paste that I could have played with; but that wasn't particularly striking my fancy, although I do like red bean ice cream.
And then it hit me: Scallion Pancakes. I could devour entire batches of these, crispy, chewy and delicious as they are. They're easy to make, and can be eaten on their own or with a dipping sauce or wrapped around a filling... they're perfect! They require no unusual ingredients or equipment, so anyone can make them. And with their many flecks of onion, I could also say that they offer symbolic hopes for bounty.
I asked my BFF Wendy's daughter Alison, who is studying Chinese (and who is fluent in English, French, Spanish, German, and Portuguese as well), how to say "Happy New Year" appropriately for this post. She gave me the common greeting in Mandarin, the most widely spoken dialect:
The four characters are xin ([SHIN] = New), nian ([nee-EN] = Year), and kuai le (pronounced to rhyme with "why the" = Happy/Wonderful).
May the Year of the Dragon bring you much happiness and good fortune!
Scallion Pancakes with Garlic-Ginger Dipping Sauce
Garlic-Ginger Dipping Sauce:
1/3 cup teriyaki sauce
1 teaspoon minced candied ginger
1 large garlic clove, minced
1/4 teaspoon sesame oil
Combine all ingredients and let rest at room temperature while making the pancakes.


Scallion Pancakes:
1 cup cake flour
1 cup bread flour + extra for dusting
1/2 teaspoon kosher salt
1-1/2 cups boiling water
4 tablespoons sesame oil
2 bunches scallions, chopped fine
4 tablespoons light-flavored oil, for frying
In a large mixing bowl, combine the flours and the salt. Slowly pour the boiling water over the flour mixture, stirring until it forms a ball. Wrap the dough in plastic wrap and let rest for 30 minutes.
Divide the dough into 4 portions, and keep the remaining ones covered while you work with one at a time.
Form the dough into a ball, then roll it out on a heavily floured surface to an 8-inch circle. (A fair amount of flour is required to keep the soft dough from sticking to everything.) Brush with sesame oil, then roll it up into a cylinder.
Twist the dough into a spiral, then roll out again into an 8-inch circle.
Brush with sesame oil and sprinkle with one-quarter of the scallions.
Roll it up into a cylinder again.
Twist the dough into a spiral, then roll out again into an 8-inch circle. Repeat this procedure with the remaining dough to make a total of 4 pancakes.
Heat 1 tablespoon of the frying oil in a large skillet, over medium-high heat. Cook one pancake at a time for 2-3 minutes per side, until it's crisp and golden brown. Repeat with remaining oil and pancakes.
Makes 4 pancakes.

Mary Bilyeu writes about her adventures in the kitchen - making dinner, celebrating holidays, entering cooking contests ... whatever strikes her fancy. She is also on a mission to find great deals for her Frugal Floozie Friday posts, seeking fabulous food at restaurants on the limited budget of only $5 per person. Feel free to email her with questions or comments or suggestions: yentamary@gmail.com.
You should also visit Mary's blog — Food Floozie — on which she enthuses and effuses over all things food-related.


The phrase "You Should Only Be Happy" (written in Hebrew on the stone pictured in this post) comes from Deuteronomy 16:15 and is a wish for all her readers - when you come to visit here, may you always be happy.