Posted on
Fri, Mar 2, 2012 : 4:42 a.m.
Shrimp, Grapefruit and Avocado Salad features luscious and abundant citrus fruit
By Peggy Lampman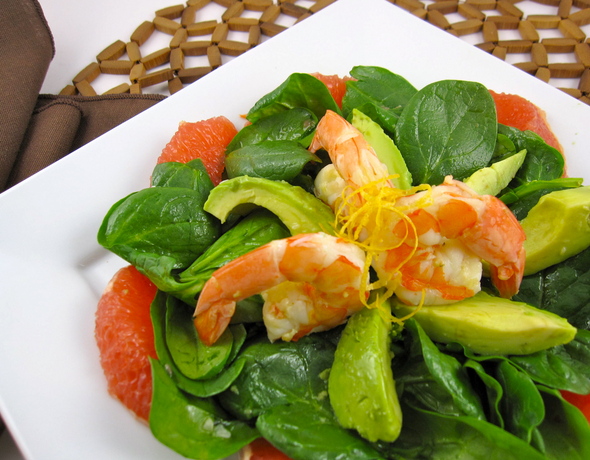 Peggy Lampman | Contributor

mean fighting machine!
I just had the most incredible grapefruit experience of my life. It was hiding behind a basket, and rolled out while I was cleaning counters. It was soft, misshapen and had brownish spots, so I assumed it was a goner. Wrong! This was the sweetest, juiciest grapefruit I've ever eaten and delicious in this favorite uber-simple, main course salad.
Grapefruit are lovely at this time of the year, which often means they are lusciously abundant with alluring price tags to match.
Here's a favorite recipe utilizing the season's bounty. Gourmet Magazine sadly bit the dust more than two years ago, but many of their recipes, fortunately, live on through the internet. The original recipe calls for lobster instead of shrimp and arugula instead of spinach, and I made some other minor adjustments according to my cooking style and the contents of my pantry.
For this recipe I cooked large (10-15 count) thawed shrimp in rapidly boiling water, which was seasoned with bay leaves and Old Bay seasoning, for 3-4 minutes.
Macerate (soak) Time (optional): 30 minutes
Active Time: 30 minutes (if cooking shrimp)
Number of servings (yield): 2
Ingredients
1 teaspoon finely chopped shallot
1 tablespoon fresh lemon juice plus lemon zest for garnish, if desired
3 tablespoons extra-virgin olive oil
1 pink or ruby-red grapefruit
1 firm-ripe avocado
4 cups baby spinach, washed and spun dry
6-8 large cooked shrimp
Directions
1. If time allows, macerate (soak) shallot in lemon juice with a pinch of kosher salt, 30 minutes. Add oil in a stream, whisking. Pour half dressing over shrimp and let shrimp sit, to absorb flavors, as you prepare the salad.
2. Cut peel, including all white pith, from grapefruit with a sharp knife. Cut segments free from membranes.
3. Halve avocado lengthwise, discarding pit. Cut crosswise into 1/3-inch-thick slices.
Divide spinach between two plates and drizzle leaves with remaining dressing. Divide avocado and shrimp on top of spinach and arrange grapefruit around spinach leaves.