Posted on
Thu, Mar 1, 2012 : 12:40 p.m.
Slow-Cooked Pork, Black Beans and Rice (al estilo de Cuba) might inspire nostalgia for family dinners
By Peggy Lampman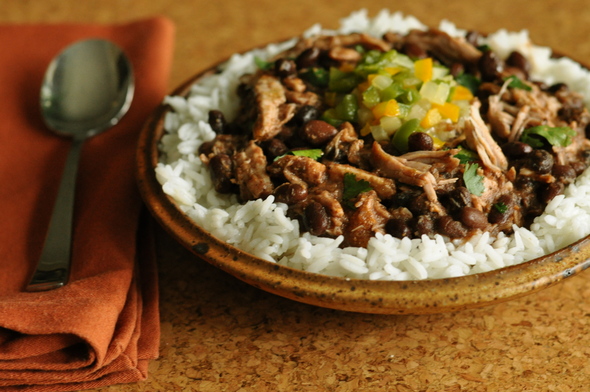 Peggy Lampman | Contributor

mean fighting machine!
If planet Earth had one dish that each of her cultures could embrace as their own, that dish would very likely be built upon a foundation of beans and rice. A classic combination, beans and rice are a staple not only because they're inexpensive and nutritious; if you doctor them up, they are really, really good. Most Cubans and ex-pats stake claim to this dish as their own beloved, home-grown staple.
Guillermo Flores' parents and older sister left Cuba for Spain right after the revolution in 1960, and Arroz con Frijoles Negros (black beans and rice) are important to this Ann Arbor man.
"This seemed to be the main two elements of any traditional Cuban meal around, which other food items revolved. For as long as I can remember, arroz con frijoles has been a main dish for us and a reminder of our Cuban roots," Guillermo tells me.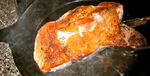 "As a kid, I always enjoyed how the rice and beans worked together. First, you would serve the steaming white rice. Then you would pour the beans over the rice, with the black sauce flowing down the mountain of rice. It was a beautiful contrast of colors. I would mix it up all together until the rice and beans stopped being individual ingredients and morphed into a single dish — probably a metaphor for the people of Cuba and their very diverse ethnicities."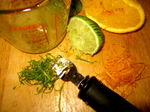 Guillermo described how arroz con frijoles was part of his traditional Cuban Christmas Eve dinner growing up. The rice and beans would be accompanied by pork marinated in the traditional "mojo" (pronounced "mo-hoe", a citrus-garlic marinate), "tostones" (twice-fried plantains) and/or yuca (yucca/cassava) with garlic "mojo." The colors, textures and flavors of all these elements "worked amazingly well" together.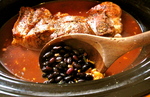 Guillermo explains that my recipe for pork, beans and rice would not typically be cooked together in Cuba. He explained that in the traditional Cuban way, the rice, beans and pork are cooked separately, but served together. However, he graciously gave a stamp of endorsement to the ingredient list.
"It definitely is Cuban-like or Cuban-inspired," Guillermo says.
The meaty recipe fits the bill for a make-ahead dish large enough to serve a group. Its international flavor profile, enlivened by abundant citrus, was also easy on the purse strings —about two bucks a serving.
Assemble the ingredients and cook in a slow-cooker at least one day, and up to two days, in advance, making sure you shred the pork to allow the flavors to soak into the meat. (This is a dish that tastes even better the second or third day.) Re-heat and serve with steamed rice, which should be made just prior to eating, cilantro, and an optional sofrito.
"This is a dish that will always remind me of my family's visits to Miami to see the countless relatives and friends who had also fled Cuba. Without fail, we would be invited to some friend's or distant cousin's for dinner, a great way to reconnect and talk about the 'good ol' days' in Cuba and the current political situation.
"These dinners involved plenty of delicious food and the ever-present arroz con frijoles," he continued.
"Once we visited two sets of friends and relatives in one night, and somehow both thought we were coming for dinner. Yes, two dinners, plenty of arroz con frijoles and much-needed Alka-Seltzer afterward! For as long as I live, arroz con frijoles will connect me with my family and with the Cuban culture — a culture full of passion, rhythm, flavor, warmth and a longing for days gone by."
Yield: Approx. 10 servings with rice
Active Time: 30 minutes
Bean Soaking Time: 12-24 hours
Slow Cook Time: 8-9 hours in a slow cooker on low heat
Ingredients:
1 pound black beans
2 pounds boneless, skinless pork shoulder
1 tablespoon canola oil
1/2 cup tomato paste (I used a 4 1/2 ounce tube double concentrated Amore tomato paste)
3 cups beef or chicken stock
Chopped zest and juice from 1 juicy lime
Juice from 2 juicy oranges, chopped zest from 1 orange
1 1/2 teaspoons ground cumin
1 heaping teaspoon dried oregano
1 teaspoon cardamom
2 heaping tablespoons minced garlic
1/2-1 1/2 teaspoons crushed red pepper flakes
1 large onion, peeled and thinly sliced
1 cup chopped cilantro
Sofrito,** (optional)
*1/2 teaspoon adds mild heat; add additional pepper according to taste.
**Finely diced and sautéed onion, garlic and peppers.
Directions:
1) Soak beans in water 8-24 hours. Drain and place in bottom of a slow-cooker.
2) Liberally season all sides of pork with kosher salt and freshly ground pepper. Heat oil in a large skillet over medium-high to high heat. Sear all sides of pork until golden brown; set aside.
3) As pork browns, whisk tomato paste, stock, orange and lime zest and juices, cumin, oregano, cardamom, garlic and red pepper together and pour over beans; stir in onions. Place browned pork on top. Cover and cook on low 8-9 hours, or until beans are tender and pork may easily be pulled into shreds.
4) Stir in cilantro, serve with rice, and pass the sofrito, if using.