Posted on
Thu, May 12, 2011 : 4 p.m.
Spring Green Risotto
By Peggy Lampman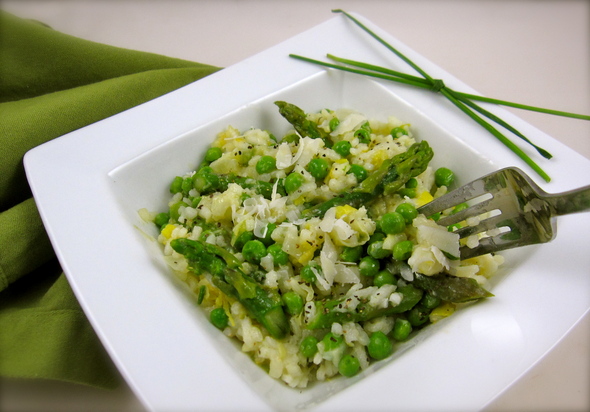 Peggy Lampman | Contributor

Peggy Lampman's Thursday dinnerFeed
I began making risotto back in the early '80s, and there was — and still is — a great deal of mystique surrounding the dish. First, I was warned to never stop stirring. I must stir the risotto constantly or a disastrous mass of glutinous rice stuck to a burned pot would be inevitable. That's 40 or so minutes of constant stir-time, my friends.
I was raising babies during that era and was torn; ruin my risotto or pick up my colicky, screaming infant? Motherly instincts (reluctantly) prevailed, and I learned a valuable life lesson: one can leave the risotto a couple of minutes without a culinary disaster. Just remember to douse the rice with stock and give a little stir before you stray.
Second, I was instructed by venerable Italian chefs that the only rice I could consider using for a proper risotto is Arborio rice and it must come from the Po Valley of Italy. I still agree with this dictate. It is the classic rice for risotto, yielding the holy grail of creamy texture and toothsome bite. And Arborio from this region produces a far superior risotto than those poseurs calling themselves "risotto rice" from Missouri or China.
With that said, I often take poetic license in the name of adding nutritional whole grains to my diet. The photograph is, indeed, risotto made with Po Valley Arborio rice. I couldn't bear the thought of a million and one black-clad Italian grandmother's swarming down on me in my sleep. (Those chefs taught me well.) But if you substitute semi-pearled farro or pearled barley for the Arborio rice you may be quite pleased with the result.
Local asparagus, an ingredient in this recipe, is finally poking its nose into markets around town, two weeks later than last year. Can one have too much of a good thing? Not when it comes to home-grown asparagus.
Fresh asparagus is available year round but, to me, May asparagus from Michigan soil has a brighter, fresher taste, and a crispier texture than Mexican asparagus bought January in Michigan. Purchasing asparagus from local farmers when the morning dew sweats their pointy little helmets is a sweet treat, indeed.
This Ina Garten recipe for Spring Green Risotto is a marvelous celebration of flavors sprung from the soil with the sunny flavor of abundant lemon. Ina's addition of mascarpone in the end is one of the many reasons why we love her so!
This adaptation of Ina Garten's recipe may be found in her Barefoot Contessa "Back to Basics" cookbook.
Yield: 4 main course servings
Time: 55 minutes
Ingredients
1 1/2 tablespoons extra virgin oil
1 1/2 tablespoons unsalted butter
3 cups chopped leeks, white and light green parts (2 leeks)
1 cup chopped fresh fennel bulb
1 1/2 cups Arborio rice
2/3 cup dry white wine
4 to 5 cups simmering chicken stock, preferably homemade
1 pound thin asparagus, locally grown if possible, cut diagonally into 1 1/2-inch pieces;ends discarded
10 ounces frozen peas, defrosted, or 1 1/2 cups shelled fresh peas
1 tablespoon freshly grated lemon zest (2 lemons)
2 tablespoons freshly squeezed lemon juice
1/3 cup mascarpone cheese, preferably Italian
1/2 cup freshly grated Parmesan, plus extra for serving
3 tablespoons minced fresh chives, plus extra for garnish
Directions
1. Heat the olive oil and butter in a medium-sized saucepan over medium heat. Add the leeks and fennel and saute for 5 to 7 minutes, until tender. Add the rice and stir for a minute to coat with the vegetables, oil, and butter. Add the white wine and simmer over low heat, stirring constantly, until most of the wine has been absorbed.
2. Add the chicken stock, 2 ladles at a time, stirring almost constantly and waiting for the stock to be absorbed before adding more. This process should take 25 to 30 minutes.
3. Blanch asparagus in boiling salted water for 1 to 3 minutes, until they just bend slightly. Drain and cool immediately in ice water. (If using fresh peas, blanch them in boiling water for a few minutes until the starchiness is gone.)
4. When the risotto has been cooking for 15 minutes, drain the asparagus and add it to the risotto with the peas and lemon zest. Continue cooking and adding stock, stirring almost constantly, until the rice is tender but still firm.
5. Whisk the lemon juice and mascarpone together in a small bowl. When the risotto is done, turn off the heat and stir in the mascarpone mixture plus the Parmesan cheese and chives. Season to taste with kosher salt and freshly ground pepper. Serve hot with a garnished with chives and additional Parmesan.
Looking for a specific recipe? Click here for dinnerFeed's recipe search engine; type the recipe or ingredient into the search box. I am a real-time food writer and photographer posting daily feeds on my website and in the Food & Drink section of Annarbor.com. You may also e-mail me at peggy@dinnerfeed.com.