Posted on
Sat, Mar 17, 2012 : 6 a.m.
Stalking the wild leprechaun: A St. Patrick's Day liveblog
By David Bardallis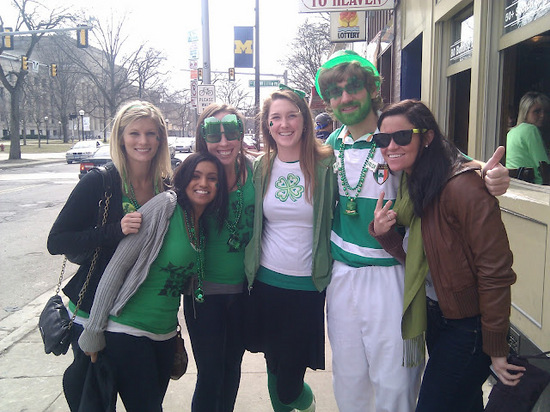 David Bardallis | Contributor
Another year, another St. Patrick's Day. Well, actually, it's not just another St. Patrick's Day. It's Saturday, for one thing. And on top of that, the weatherman is forecasting more Algorean warmth, with highs once again in the 70s.
So much for those misty, rolling hills of Old Ireland. (Seriously, the weather forecast for Dublin is more Michigan than Michigan's.) Me, I'm forecasting an epic day of Hunter S. Thompsonesque absurdity.
That's right, the fools editors of your favorite newspaper-website thing, AnnArbor.com, have once again commissioned your correspondent to wake up at an ungodly hour and head out into the wilds of Tree Town in an effort to document the sights and sounds of St. Patrick's Day in Ann Arbor.
Well, okay, maybe not the sounds. And for a lot of the sights, you'll have to use your imagination. But I do promise to take pictures, so keep a sharp eye on the Twitter box below throughout the day, And if you're out and about, too, feel free to join in the fun with the hashtag I'll be using, #stpata2.
Still wondering where to go and what to do? Consult Sean Patrick Conor Flannery O'Leprechaun's guide. It's chock full of good ideas, sure and begorrah. See you on the streets!
David Bardallis is a freelance writer and editor, blogger, bon vivant, and man about town. Visit "All the Brews Fit to Pint" at AnnArborBeer.com, follow @allthebrews on Twitter, or join the "All the Brews Fit to Pint" Facebook page. Email your beer-related thoughts to annarborbeer@gmail.com.