Posted on
Mon, Apr 9, 2012 : 10:20 a.m.
Stuffed Eggs Florentine is a tasty use for your Easter eggs
By Peggy Lampman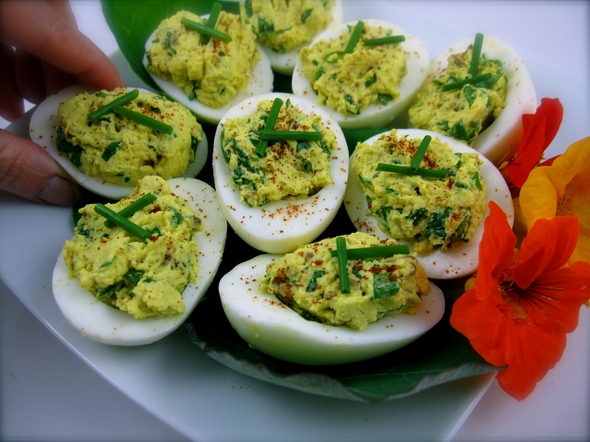 Peggy Lampman | Contributor

mean fighting machine!
Extra hard-cooked eggs on hand? Last week I made Polish-Stuffed Eggs, which were yummy. But with a plethora of dyed eggs rolling around the salad crisper from yesterday, another favorite recipe deserves a repeat.
I've never met a stuffed egg I didn't like. On St. Patty's Day, a friend made stuffed eggs and the yolk mixture was green (I was afraid to ask why). I couldn't get enough of them.
You can make this recipe over-the-top good by saving a bit of the bacon fat and stirring it into the yolk mixture. When friends swoon because they're so heavenly (and hopefully not from cholesterol overload), no one said you have to share this little secret.
This mixture also makes an awesome egg salad sandwich when chopped up. Serve on good toasted bread spread with mayo, and lettuce and tomato.
Time: 25 minutes (if eggs and bacon are prepared)
Yield: 12 stuffed eggs
Ingredients
6 extra large eggs, hard boiled, cooled, peeled and halved lengthwise
2 tablespoons mayonnaise
1 teaspoon Dijon mustard
1/2 teaspoon turmeric, optional
1 teaspoon finely chopped chives, plus 1/2-inch snipped chives for garnish
1/2 cup packed, stemmed spinach, chopped into ribbons
2 slices cooked bacon, finely chopped
Paprika for dusting eggs, optional
Instructions
1. Remove yolk from eggs and place them in a bowl. Using a fork, combine the mayonnaise, mustard, turmeric if using and chopped chives into the yolks to form a smooth paste. Stir in bacon and spinach and season to taste with freshly ground pepper.
2. Fill egg white shells with the yolk mixture and place on a large plate or platter. Garnish with snipped chives and dust with paprika, if desired.