Posted on
Mon, May 14, 2012 : 11:43 a.m.
Asparagus Soup with Herb Croutons takes advantage of spring's abundance
By Peggy Lampman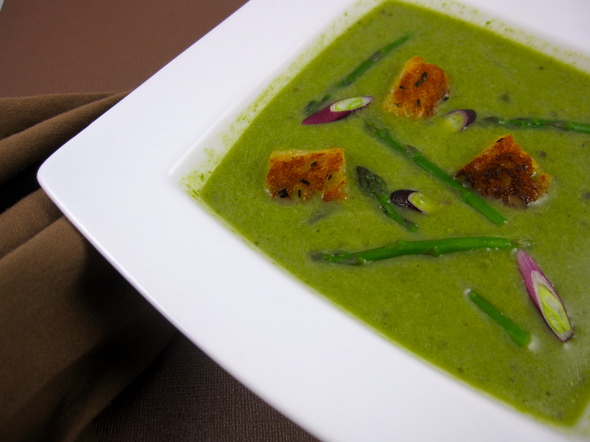 Peggy Lampman | Contributor

mean fighting machine!
When local asparagus are filling tables and bins at the Farmers Market, here's one of my favorite spring soups to make: an abstract painting in a bowl.
If you've time, make a homemade stock with the lower ends of the asparagus and the leek or scallion greens. Simply chop them up, combine with chopped carrot, celery, a bay leaf peppercorns and 8 cups of water; bring to a boil, then simmer 45 minutes. After straining, you should have the right amount of stock to make the soup.
The croutons are optional, but oh so wonderful soaked into the marvelous brew.
Click here for more savory recipes using fresh asparagus.
Yield: 4 servings
Time: 20 minutes (using ready-made stock)
Ingredients for Soup
3 tablespoons unsalted butter or extra virgin olive oil

1 russet potato, peeled and cut to a 1/4-inch dice

1 bunch scallions* or two leeks, white parts only, well washed and thinly sliced

1 1/2 pounds asparagus, snap or cut off ends (reserve 12-16 thin tips for a garnish)

1 teaspoon tarragon

5 to 7 cups vegetable or chicken stock
*The Farmer's Market sells beautiful red spring scallions which I used in this recipe. I saved some sliced red scallions for a garnish.
Directions for Soup
1. Melt the butter or oil in a heavy-bottomed pot or Dutch oven. Add the potatoes and scallion or leeks and cook over medium heat 3 minutes, stirring occasionally. Add the asparagus, tarragon and a pinch of kosher salt.

2. Pour in 5 cups of the stock and bring to a boil; then reduce heat to simmer and cook until the potatoes and asparagus are tender, about 6-8 minutes. With a food processor or immersion blender, purée the soup. Return to pot and simmer, thinning with additional stock if desired.

3. In another medium-sized pot, bring salted water to a boil. Cook asparagus tips 30-60 seconds until just tender and drain in a colander.

4.Season soup with kosher salt and freshly ground pepper. Ladle soup into bowls and garnish with asparagus tips, reserved scallions if using and herbed croutons (recipe follows).
Ingredients for Herbed Croutons
3 cups bread cubes, cut into 1/2-3/4-inch pieces

2 tablespoons extra virgin olive oil

1 tablespoon dried herbs such as tarragon, basil or chives
Directions for Herbed Croutons
1. Preheat oven to 325 degrees.

2. Toss bread cubes with olive oil and herbs. Spread croutons on a foil-lined baking sheet and sprinkle with kosher salt. Bake on middle rack of oven about 20 minutes or until golden brown. For even browning, turn croutons once during baking time.