Posted on
Wed, Jan 11, 2012 : 6:05 a.m.
Baked Stuffed Eggplant - a versatile dish with mix-and-match ingredient list
By Peggy Lampman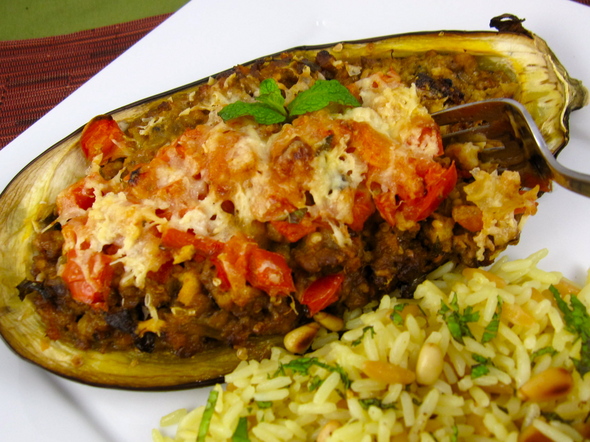 Peggy Lampman | Contributor

mean fighting machine!
You can shoehorn most anything into an eggplant, a squash or the inside of a fruit and bake it. Globe eggplants are particular favorites of mine because of their largess; I can stuff more yummy goodness inside before cooking.
I'm fond of recipes whose ingredients can be mixed and matched to accommodate different palates. This is one of them.
If selecting the more assertive flavor of ground lamb, the pecorina (sheep's milk cheese) paired with fresh mint is a perfect marriage. However, if ground beef is your choice, the Parmesan paired with fresh basil or thyme is a great flavor with the beef. A leaner, less assertive grind, such as turkey? Almost any leftover grating cheese combined with basil would be fine.
Active time: 25 minutes
Bake time: about 45 minutes
Number of servings (yield): 2-4 servings (eggplants may be halved for smaller appetites)
Ingredients
1 large globe eggplant
1 1/2 tablespoons extra virgin olive oil
1 small onion, diced
2 teaspoons minced garlic
2 tablespoons tomato paste
1/2 pound ground lamb, beef or turkey
1/4 cup freshly chopped mint, basil or thyme leaves, chopped, plus extra sprigs for garnish
1 cup plus 1/4 cup grated Pecorino Romano or Parmesan
1 egg, beaten
1/4 cup panko
1 medium tomato (1/2 cup), diced
Instructions
1. Preheat oven to 350 degrees.
2. Cut the eggplant in half, lengthwise, and scoop out the center, leaving enough meat inside the skin so that it holds its shape when baked (1/2-inch lip). Chop eggplant pulp and reserve.
3. In a large sauté pan, heat olive oil over medium heat. sauté onion 3 minutes, add garlic and tomato paste and sauté an additional minute. Add chopped eggplant and sauté 3 additional minutes. Add lamb or beef to the pan, crumbling meat with a fork into small pieces, and let meat cook thoroughly. Lightly season mixture to taste with kosher salt and freshly ground pepper. Let cool slightly.
4. In a bowl mix together the egg, panko, 1 cup of pecorino or Parmesan, mint or basil. Combine with eggplant mixture.
5. Fill the scooped-out eggplant halves with this mixture, dividing it evenly among the 2 halves. Top with chopped tomatoes and the remaining 1/4 cup of grated cheese. Place on an oiled cooking sheet or baking dish, lightly tent with foil and bake for 15 minutes on middle rack of oven. Remove foil and bake and additional 25 minutes or until eggplant is tender.
My new web site has recently been launched (www.dinnerFeed.com)! I'm a real-time food writer and photographer posting daily feeds on my website and in the Food & Drink section of Annarbor.com. You may also e-mail me at peggy@dinnerfeed.com.