Posted on
Mon, Feb 13, 2012 : 10:30 a.m.
Swedish-style sandwiches put the spotlight on simple but delicious ingredients
By Mary Bilyeu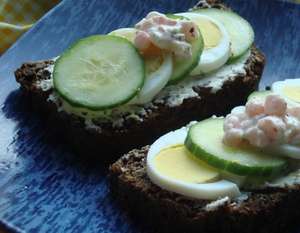 Mary Bilyeu | Contributor
My friend Sassa, who is from Sweden, recently took my friend Wendy and me on a grand culinary tour of the foods she grew up with. Of course, that meant a schlep down Ford Road to IKEA, the largest importer of these items in our area! (You can read about our adventure on my blog, Food Floozie, today.)
In the cafeteria, we enjoyed some lovely gravlax as well as a sweet apple cake served in typical Swedish fashion with a light vanilla sauce. In the grocery section, we spun 'round to grab shrimp and anchovies and cheese, to ogle syrups and caviars and beverages, to buy chocolate and jam and cookies. I went home with a variety of items and plans to start cooking.
I immediately took the whole-grain bread mix I'd bought and baked a fabulous dense, slightly sour loaf. It was perfect served with a firm cheese, but I also wanted to try some beautiful Swedish-style sandwiches, as well.
Sassa had shown such passion for the foods of her homeland, especially for the simplicity of the cuisine which showcases the purity and integrity of well-chosen ingredients. Whereas here we tend to "kick it up a notch," Swedes don't typically overwhelm with rich sauces and layering to mask the main items in a dish.
So these sandwiches don't feature multiple layers of toast and cole slaw and french fries and pickles and secret sauce and whatnot. A slice of good bread, some butter flavored with the addition of dill, unadultered slices of egg and cucumber and a light garnish of a shrimp salad... that's all you need.
The crispness of the cucumber contrasts with the softness of the egg. The sweetness of the shrimp (Scandinavian shrimp have a different flavor than ones from this side of the ocean) contrasts with the bite from the sprinkling of pepper. The minimalist approach used to put this sandwich together only serves to put each ingredient in a spotlight, while the whole is very pretty to look at and delicious to eat.
Swedish-Style Sandwiches
2 1/2-inch thick slices brown whole-grain bread
2 tablespoons butter, softened
1/8 teaspoon dried dill
juice from 1/4 lemon
pinch of kosher salt
very thin slices of cucumber
very thin slices of hard-boiled egg
2 large shrimp, chopped
1 teaspoon mayonnaise
generous sprinkling of freshly ground pepper
Lay the bread slices onto a plate. Mix the butter, dill, lemon juice and salt; spread over the bread. Overlap slices of cucumber and egg (adjusting proportions to your taste — more egg or more cucumber, as you see fit). Stir the shrimp and the mayonnaise together with the pepper; place a dollop on top of the sandwich.
Serves 1-2.

Mary Bilyeu writes about her adventures in the kitchen - making dinner, celebrating holidays, entering cooking contests ... whatever strikes her fancy. She is also on a mission to find great deals for her Frugal Floozie Friday posts, seeking fabulous food at restaurants on the limited budget of only $5 per person. Feel free to email her with questions or comments or suggestions: yentamary@gmail.com.
You should also visit Mary's blog — Food Floozie — on which she enthuses and effuses over all things food-related.


The phrase "You Should Only Be Happy" (written in Hebrew on the stone pictured in this post) comes from Deuteronomy 16:15 and is a wish for all her readers - when you come to visit here, may you always be happy.