Posted on
Tue, Jun 18, 2013 : 8 a.m.
Sweet Dirt's deliciously creative local and seasonal ice creams available at the Farmers Market
By Kim Bayer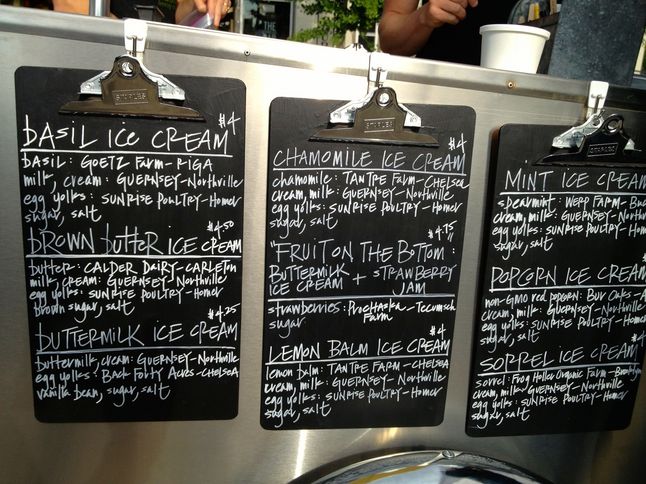 Kim Bayer | AnnArbor.com Contributor
Here's how popular the local food marketplace has become in Ann Arbor: not just farmers but now graphic designers, former lawyers, even doctors and pastry chefs are showing up to sell their artisan wares at the farmers market. Melissa Richards, who is pastry chef at Grange Kitchen and Bar, set up her Sweet Dirt ice cream cart for the first time last week selling "frozen sweets that are right from the farm."
Using all local ingredients, fruit and herbs that were picked just a couple of days ago, and working out of the Grange kitchen, Richards is making exquisite (and unique) ice creams and sorbets.
She sells the single-serving treats from a simple vintage cart that her husband fills with dry ice and pulls to the market from their home on the Old West Side. Current ice cream flavors, based on what is most abundant from area farms, have included chamomile, marjoram, lemon balm and buttermilk ice cream with strawberry jam.
Richards says, "I want people to see that ice cream can be other things than chocolate and vanilla, and can have only five simple ingredients in it."
She gets her Guernsey milk, cream and eggs, along with cane sugar, delivered from Eat Local Eat Natural to her kitchen at Grange and buys her honey at the farmers market. She says, "I grew up in Northville, so I have a special place in my heart for Guernsey. And I know what to expect when I use their product."
This week Richards is buying up June strawberries and says she got the first bunch of lavender from Frog Holler Organic Farm. She says the process of working with what's in season is more challenging, but "it's like my desserts at Grange. Instead of going out and getting all the ingredients for chocolate ice cream and practicing until it's the best, I'm doing the opposite. I'm working with farmers to use what they are growing. I ask 'what do you have an abundance of right now?'"
Sometimes she's surprised, as with the armloads of lovage, a celery-flavored herb she had never used before that she got from Tantre Farm. She used it to create an unforgettable pale green lovage granita.
The process of working with local farmers means that what Richards sells will always be a uniquely creative expression of the flavors of our region — especially because she doesn't like to combine different flavors together.
She says, "I want you to taste that one pure flavor. Like my concord grape sorbet — I want it to taste like you're eating the fruit, only better. I want to taste the flavor at its fullest potential."
When I asked Melissa Richards about the origin of the "Sweet Dirt" name, she said, "I wanted to have something linked to the soil." And continued, "When I visualize myself making my ice cream, I visualize myself going to the garden…I went back and forth with different options, and then I talked to Richard Andres at Tantre Farm, and he said 'Yes, it's all about the soil, the health of the soil.' And I thought, I'm doing it. I'm keeping that name."
NOTE: Richards will have her Sweet Dirt ice cream cart at the Ann Arbor Farmers Market during market hours Wednesdays and Saturdays. I ate marjoram ice cream for breakfast the other day, and it was delicious. Kim Bayer is a freelance writer and culinary researcher. Email her at kimbayer at gmail dot com.