Posted on
Thu, Jan 17, 2013 : 6:51 a.m.
Texas chili: no tomatoes, no beans, all flavor
By Jessica Webster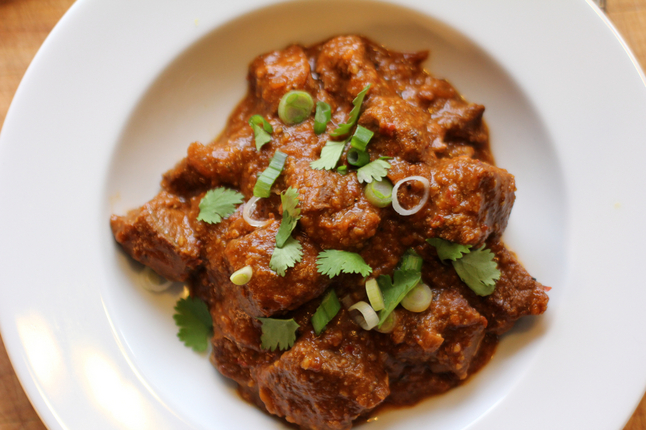 Jessica Webster | AnnArbor.com
I've been more than a little bit obsessed with the idea of
Texas-style chili
for a very long time. I had never tried to make it, but based on how excited Texans are about protecting their chili's virtue (no beans, no tomatoes … ever!), it seemed like it must be something wonderful indeed.
I have different food bloggers I turn to for different reasons. If I'm looking for simple, delicious comfort food, SmittenKitchen.com is my first stop. But if I want totally geeked-out kitchen chemistry, I turn to J. Kenji Lopez-Alt in the SeriousEats.com Food Lab. My instincts told me that the interplay of peppers, hot and sweet, required the help of a chemistry geek.
As usual, Serious Eats did not let me down. This chili tasted so good I spent the entire next day at work dreaming about it, periodically calling home to make sure no one was eating the leftovers so we could have it again for dinner.
In the Serious Eats blog post about the chili, Lopez-Alt explains that browning the beef on just one side gives you the nice browned flavors without drying out the meat. Clever! He also suggests using chicken broth instead of beef (unless you've made your own) since it tastes more natural and meaty.
Don't be overwhelmed by the amount and variety of chili peppers listed here. Dried chili peppers are available in most grocery stores (check the international aisle). Or even better — you can buy exactly the number you need at a bulk food store like By The Pound. The trick is to go for variety, even if you don't find the exact peppers listed here. You'll end up with a spoonful that bathes your entire tongue in varying levels of moderate heat.
Oh, and I'm not kidding. Make it the day before you're going to eat it. It only gets better with time. Just be prepared to long for it all day until you can eat it.
Texas-style Chili Con Carne (adapted slightly from a recipe from SeriousEats.com)
Ingredients
3 whole sweet fresh chilies like Costeño, New Mexico, or Choricero, stems and seeds removed
2 small hot dried chilies like Arbol or Cascabel, stems and seeds removed
2 whole Chipotle chilies canned in adobo sauce, plus 2 tablespoons sauce, stems and seeds removed
3 whole rich fruity dried chilies like Ancho, Mulatto, Negro, or Pasilla, stems and seeds removed
1 quart low-sodium canned or homemade chicken broth
1 12-ounce bottle of pale ale or lager (beer)
2 1/2 pounds beef chuck, trimmed of excess gristle and fat, cut into 2-inch chunks
Kosher salt and freshly ground black pepper
2 tablespoons vegetable oil
1 large onion, finely diced
6 medium cloves garlic, grated on a microplane grater
1/2 teaspoon powdered cinnamon
1 tablespoon ground cumin
1/4 teaspoon ground allspice
2 teaspoons dried oregano
2 to 3 tablespoons masa (available in the international area of many grocery stores)
Instructions
Combine all chilies in a medium saucepan and add the chicken broth. Simmer over medium-high heat until chilies are completely tender, about 15 minutes.
Transfer to a blender or hand blender cup and blend until completely smooth. You may want to let it cool a bit before transferring to a blender, or be very careful and cover the blender lid with a dishtowel to catch any spray.
Heat oil in a large heavy-bottomed Dutch oven over high heat until smoking. Season meat with salt and pepper and cook in batches without moving until well-browned on bottom side, about 6 minutes.
Transfer meat to a large bowl and set aside.
Return Dutch oven to heat. Add onions and cook, stirring frequently until translucent and softened, about 2 minutes. Add garlic, cinnamon, cumin, allspice, and oregano, and cook, stirring constantly until fragrant, about 1 minute. Add the beer and stir until the froth has subsided. Add all meat back to pan along with chili puree. Stir to combine.
Bring to a boil over high heat; reduce to a simmer, cover, leaving lid just barely ajar and cook, stirring occasionally, until meat is completely tender, 2 1/2 to 3 hours. Alternatively, stew can be cooked in a 200 to 250 degree oven with the lid of the Dutch oven slightly ajar.
Season liquid to taste with salt and pepper and whisk in masa in a slow steady stream until desired thickness is reached. For best results, allow chili to cool overnight and reheat the next day to serve.
Jessica Webster leads the Food & Grocery section for AnnArbor.com. Reach her at JessicaWebster@annarbor.com. You also can follow her on Twitter or subscribe to AnnArbor.com's email newsletters.