Posted on
Sat, Jan 14, 2012 : noon
The Soft Parade: Michigan brew has fruity notes with rye backbone
By Nate Parsons
Fruit has crept into nearly every style of beer, from light lagers to bourbon-aged stouts. The tinkering nature of craft brewers looking to push the experimental envelope is the likely source of this burgeoning interest. Infusing the sweet, sour or tart character found in fruit is bound to deliver a personality that the master brewer can't resist.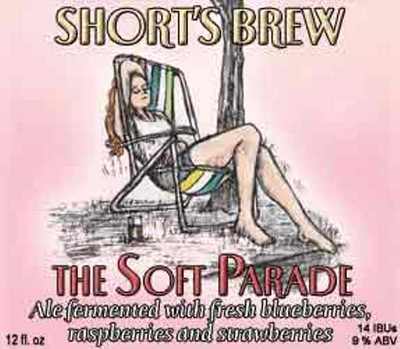 Tasting Notes
Beer:
The Soft Parade
Brewery:
Short's Brewing Co.
Origin:
Bellaire, Mich.
Style:
Rye Ale - Fruit
ABV:
9 percent
Glassware:
Pint
Description:
Pours muted red with little fanfare; the razor thin foam line is bright white with a slight pink hue. Lacing appears sticky as it holds the inner glass. Aroma is berry, more tart than sweet, with a hint of cake batter. Raspberry is front and center on the tongue, but earthy accents from a rye backbone balance the load. A calculated hint of tart fruit, sweet malt and crisp hops close out the dry finish for a well-rounded experience.
Conclusion:
Historically, fruit beer is the red-headed stepchild of the industry, but don't expect too much from The Soft Parade... it's already awesome. (thanks nea)
Where to Purchase
The Wine Seller, 2721 Plymouth Road, Ann Arbor - 6 pack for $9.00
Plum Market, 375 N. Maple Road, Ann Arbor - 6 pack for $12.99
Whole Foods, 3003 Washtenaw Ave, Ann Arbor - 6 pack for $10.99
Traditional fruit beer is brewed throughout the world, though Belgium is recognized as one of the largest producers. The most popular is called kriek, which is Flemish for "cherry." Classic kriek has a distinct red hue, and the taste is on the sweeter side.
In the U.S. market, fruit beers tend to be very complex, and the best are a challenge to create. The intensity of flavor fluctuates greatly, but the base style should be apparent and always harmonize with the fruit of choice. These brews make excellent dessert beers and even better floats when poured over ice cream.
Local brewers have collaborated with Michigan's fruit growers to harvest some of the best specialty beers in the market today. Cerise by Founders Brewing and Archangel from North Peak both hit the mark with cherry infused offerings. Dark Horse Brewery churns out Tres Blueberry Stout which makes a great winter treat.
Short's Brewery takes a blended approach, a pureeing of raspberries, blueberries, and strawberries to create a ruby red elixir known as The Soft Parade. This rye ale boasts a robust berry aroma, and a slight earthy tartness balanced by sweet bready malts.
When seeking a Fruitopia experience Bellaire is never too far away.
Nate Parsons is a contributor to AnnArbor.com and can be reached at modevin@yahoo.com.