Posted on
Tue, Jan 10, 2012 : 1 p.m.
Tofu Hot Pot is a perfect 'detox' meal
By Peggy Lampman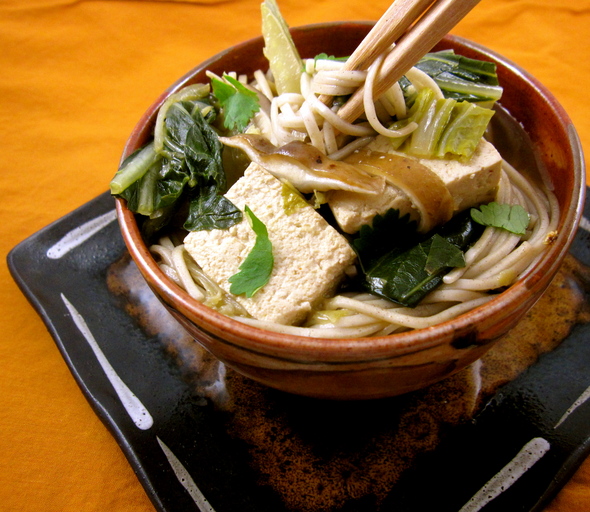 Peggy Lampman | Contributor

mean fighting machine!
This
Hot Pot
is my idea of the perfect detox dinner. I almost renamed it "Get Clean Soup" because it reminds me of a new favorite tea ("
Get Clean
", from The Republic of Tea), which I recently purchased at
Whole Foods
.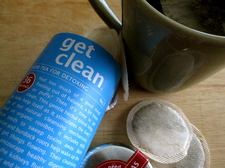 The tea caught my eye because the description on the label begins: "Had too much of a good thing? Feeling out of balance, a bit heavy or puffy?"
Yes, after the holidays, that would be me. I'll sip this tea in the coming weeks in hopes of a speedy recovery.
I will also brew pots of Hot Pot, a favorite cleansing soup I make routinely in the months of January, February and March. Kimchi, which is a fermented, unctuous, spicy cabbage, lends a great deal of flavor to the brew. Fresh sliced cabbage could be substituted, if desired. Hot Pot with Chicken and Soba Noodles is another favorite, which will also cure what ails me.
Yield: 12 cups
Time: 45 minutes
Ingredients
2 tablespoons sesame oil, divided
1 large shallot, minced (3 tablespoons)
3 tablespoons fresh ginger, cut into matchstick, julienned slices
8 cups chicken, vegetable, or beef stock
2 tablespoons-1/4 cup soy sauce
1-2 cups kimchi*, coarsely chopped
2 pounds bok choy washed, cored and, separating stem end from leaves, slice into long, 3/4-inch-thick strips
7 ounces shiitake mushrooms, woody stems removed and sliced (4 cups)
1 1/2- 2 pouds extra firm tofu, sliced into 1 1/2-inch x 14-inch sliced pieces
3 tablespoons chopped cilantro (optional)
6 ounces uncooked soba noodles (buckwheat noodles)
*Select hot or mild kimchi, according to your palate. I usually select mild kimchi and let individuals add chili paste or red pepper flakes according to individual taste.
Directions
1. In a large pot or wok, heat 1 tablespoon oil over medium heat. Add shallot and ginger and cook 3-4 minutes or until just tender and fragrant.
2. Put the stock, 2 tablespoons soy sauce, 1 cup kimchi and bok choy stem ends into the pot, and bring to a boil. Reduce heat and allow the broth to simmer for 10 minutes or until bok choy stems are just tender. Add mushrooms, boy choy greens, and tofu and additional soy sauce and kimchi to taste, if desired, and simmer an additional 5-10 minutes or until mushroom are tender. Stir in chopped cilantro, if using.
3. Meanwhile, while soup is simmering, bring a pot of salted water to a boil and cook soba noodles according to package instructions.
4. Add the noodles to the soup before serving; or divide the noodles between six bowls, pour steaming soup over noodles and serve.
My new web site has recently been launched (www.dinnerFeed.com)! I'm a real-time food writer and photographer posting daily feeds on my website and in the Food & Drink section of Annarbor.com. You may also e-mail me at peggy@dinnerfeed.com.