Posted on
Tue, Feb 14, 2012 : 4:40 a.m.
Valentine's Day Spicy Thai Shrimp & Eggplant will heat up your love celebration
By Peggy Lampman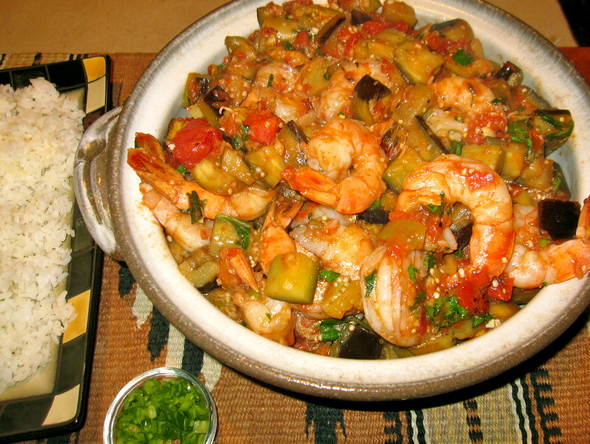 Peggy Lampman | Contributor

mean fighting machine!
Happy Valentine's Day! This past weekend a group of girlfriends and I got together in a Valentine's Day warm-up celebrating friendship. We made four dishes, two cooks per dish, then sat down to a marvelous Thai dinner.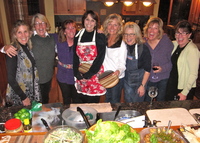 Here's the recipe for the main course that would surely spice up your Valentine's Day celebration. It requires two large sauté pans for cooking the ingredients in tandem, and serves 8-10 people. The recipe may easily be divided, even quartered to make a romantic dinner for two; then you'll only require one pan.
For more traditional (think Filet Mignon and Chocolate) Valentine's Day recipe ideas, click here.
Perfect served with steamed rice.
Yield: 8-10 servings
Time: 45 minutes
Ingredients:
3-4 large black globe eggplant, peeled or 7-8 Asian eggplants, washed, unpeeled
6-8 tablespoons peanut oil
3 pounds large shrimp, peeled and deveined (8/12 size; 11-12 per pound)
4 teaspoons garlic
4 tablespoons lemon grass
2 tablespoons chopped or grated ginger
4 tablespoons fish sauce
2-4 tablespoons red chili curry paste
1-2 tablespoons Thai or other hot pepper, seeds and membranes removed and finely chopped
2 (14.5-ounce) cans diced fire roasted tomatoes
1 cup Thai basil, washed and chopped (or combination of basil and mint)
1 cup washed and chopped cilantro
* Always wear rubber gloves when handling hot peppers.
Directions:
1. If using globe eggplant, cut into 1/2-inch slices and arrange on paper towels or a clean cloth. Lightly season with kosher salt and let excess moisture drain 30-60 minutes. Cut into 1/2-inch dice. If using Asian eggplant, cut into 1/2-inch coins.
2. In each of two large sauté pans, heat 1 tablespoon oil over high heat. When oil is hot but not smoking, quickly cook shrimp until browned but not cooked through, about 45 seconds on each side. Remove and reserve.
3. Reduce heat to medium, add additional oil to each pan and divide and sauté garlic and eggplant; occasionally stirring, 3 minutes or until eggplant is just beginning to soften. Divide lemon grass, ginger, fish sauce, 2 tablespoons curry paste, diced tomatoes and 1 tablespoon peppers between pans. Bring to a boil then reduce heat to medium-low; simmer until eggplant is tender, 15-20 minutes. Taste and add additional curry paste and peppers to sauce, if desired.
4. Return shrimp to pan and heat in eggplant sauce until just cooked through; stir in Thai basil (or basil and mint) and cilantro into mixture and serve.