Posted on
Mon, Apr 19, 2010 : 10:45 a.m.
Wacky Cake; a funny name for a cake born out of a serious situation
By Erin Mann
Erin Mann is baking a new cake every week for a year from the "All Cakes Considered" cookbook and shares her adventures here on AnnArbor.com. Read past columns here.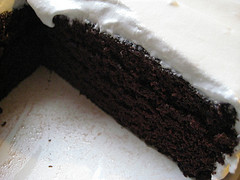 Erin Mann | Contributor
Wacky cake
. War Cake. Joe Cake. Crazy Cake. What's in a name? A cake by any other name would taste as sweet, but it may not have this cake's history. Easy One-Pan Chocolate Cake could be a perfectly appropriate title for this cake because it's incredibly simple to make and can be mixed, baked and served from the same pan. Somewhere along the way, someone decided to leave more to the imagination and coined the cake "wacky."
Wacky Cake is a timeless recipe that has been passed down from generation to generation. It is touted as a Depression era cake and originated during wartime rationing when ingredients such as milk, butter and eggs were scarce. This cake contains no dairy (making it the perfect dessert for our vegan friends) and relies on some Mt. Vesuvius action - a vigorous bubbly reaction between the vinegar and baking soda - to make the cake rise.
M.F.K. Fisher, prolific author of over 20 books about the art of eating well, wrote about her experiences of deprivation and food rationing in her book How to Cook a Wolf (1942). Her book includes a recipe for a War Cake, a variation of the Wacky Cake, made with bacon grease and spices.
"Once during the last war...when rationing of sugar and butter had been in effect just long enough to throw all the earnest young housewives into a proper tizzy, my grandmother sat knitting and listening to a small excited group of them discuss with proper pride their various ways of making cake economically. Each felt that her own discovery was best, of course, and insisted that brown sugar or molasses-with-soda was much better than white, or that if you used enough spices you could substitute bacon fat for butter, or that eggs were quite unnecessary."

(From How to Cook a Wolf by M.F.K. Fisher)
The recipe includes an optional Seven-Minute Frosting. I measured and set out all my ingredients beforehand. I improvised a double-boiler using a medium sized pot and a metal mixing bowl. I beat the mixture over the stove for what seemed like an eternity.
After seven minutes my frosting should have been fluffy with soft peaks from the egg whites but remained a syrupy liquid. Hmm...what happened?
Then I notice a small bowl of forgotten egg whites sitting on top of the microwave. In the words of Homer Simpson, "D'oh!"
Seven-Minute Frosting; take two. I re-measure the ingredients and fire up the mixer. Seven minutes later I have a bowl full of shiny, soft white peaks.
I liberally frost the top and sides of the cake. The frosting resembles a creamier, less sticky version of Marshmallow Fluff.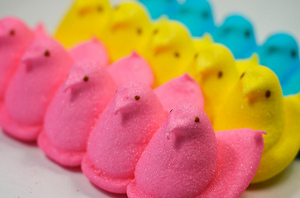 Photo by Flickr user Ben Golub
The frosting was smooth and creamy after it was made but transformed overnight. The texture was still smooth and creamy but with a little added grittiness. It was as if the sugar had re-crystallized. The texture reminded me of eating an Easter Peep; marshmallow-y but a little grainy. The flavor was unaffected and most of my tasters didn't mind the grittiness, but I think it's best to avoid the change in texture by serving the cake soon after it's made.
The Wacky Cake and Seven-Minute Frosting recipes appear here on NPR Website as part of an All Things Considered series about summer foods.
Feeling adventurous? Replace the water with cooled, brewed coffee or add chocolate chips to the batter. Or make a layer cake; the frosting recipe yields enough to cover a whole cake. Not a fan of frosting? Play with the toppings; try drizzling melted chocolate over the cake or giving it a liberal dusting of confectioner's sugar. What other variations or substitutions would you suggest?
Erin Mann is a contributor for AnnArbor.com. She is a lover of all things cake and is ruining diets one cake at a time. Email her at SheGotTheBeat@gmail.com or follow her on Twitter.