Posted on
Thu, Mar 1, 2012 : 11:11 a.m.
What's in your shopping basket? We ask three local food connoisseurs
By Jessica Webster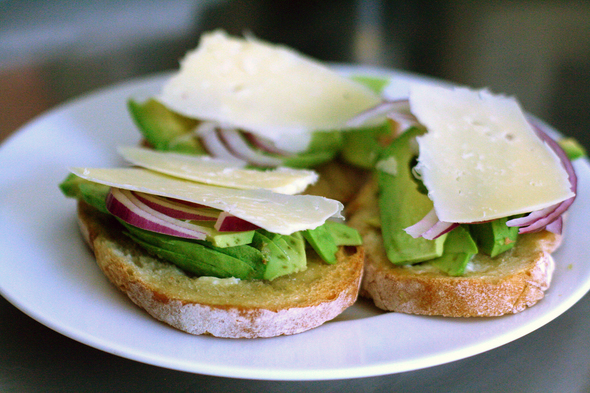 Jessica Webster | AnnArbor.com
I was standing in line at my neighborhood grocery store after a quick, post-vacation restocking trip when it occurred to me that my grocery cart almost always looks the same. Of course, it varies depending on what's on the menu for dinner, but there are certain items I buy nearly every shopping trip.
I looked around at some of the other shoppers and wondered how many of them had similar shopping habits. Does everyone buy the same food over and over? I reached out to a few friends for whom food is a huge focus in life and asked them about some of the items they might regularly find in their grocery cart when they're shopping for themselves.
I started with Lisa Gottlieb, whose passion for local, sustainable food led her to start Friday Mornings @ SELMA, a weekly neighborhood breakfast fundraiser that she runs out of her own kitchen on the west side of Ann Arbor. The breakfasts, cooked by local chefs and staffed by a small army of volunteers, help to raise money to build hoop houses that can provide fresh produce nearly year-round, often in under-privileged areas.
"I was thinking this over, and realize that what is on my must-have list may be different than others' lists," said Lisa, who responded to my query via email. "I'm assuming we start with basics like olive oil, vinegars, garlic, onions, spices and herbs, good quality dried pasta, dried and canned beans, grains, hard cheese and cream, eggs, frozen beef and fish stock and frozen meat, including bacon.
"For me, the special extras have to do with my interest in eating as locally and seasonally as possible. In the late summer and fall I either can or freeze fruits and vegetables that I love and want to cook with over the wintertime. My favorite fruits to can and freeze are peaches and cherries. I love to bake, especially pies, so those fruits are tops on my list. Peaches and cherries are also handy for savory dishes too — peach salsa for example, or a pork roast with cherries is wonderful."
Chef Brandon Johns from Grange Kitchen & Bar always has good local eggs on hand, many types of vinegar, and a variety of Michigan beers — especially selections from Arbor Brewing Co. He makes sure to have yeast for pizza dough, since he likes to make pizza with his kids on Sunday nights.
If you've ever eaten at Grange, it won't surprise you at all to know that Chef Johns keeps duck fat stocked at home. You'll also find plenty of wood for the grill and smoker, smoked paprika and a variety of whole grains.
Eve Aronoff, chef and proprietress at Frita Batidos, was happy to provide her shopping list, but with a caveat: "I am the simplest eater out there … I just love to eat!"
Chef Aronoff always buys avocados, sharp cheddar, red onion and tomatoes (though never in winter) — her favorite combination. She also always stocks her home kitchen with hot sauces (Melinda's and Shark brand Sriracha), good olive oil and butter, limes, radishes, cucumbers and what she calls "the good carbs — tasty good, not healthy good": pasta, baguettes and rice.
Round it all out with some good chocolate and pink champagne (Laurent Perrier Rose, to be specific), and Aronoff is a happy chef.
My weekly shopping list looks very similar to Eve Aronoff's. I'm always buying a good loaf of artisanal bread (Avalon or Zingerman's), sharp cheddar or aged Gouda, butter, good popcorn, shallots, red onions, raspberries, bananas, Michigan beer, lemons and limes, local eggs, Guernsey or Calder milk, garlic and avocados. And chocolate. There is always chocolate.
What about you? Do you have unique items that you always buy, week after week? Share your list in the comments below.
Jessica Webster leads the Food & Grocery section for AnnArbor.com. You can reach her at JessicaWebster@AnnArbor.com, or recognize her by the avocados and organic raspberries in her grocery cart.