Posted on
Wed, Aug 28, 2013 : 8 a.m.
Whole wheat holiday challah - nostalgia inspires search for classic recipe
By Mary Bilyeu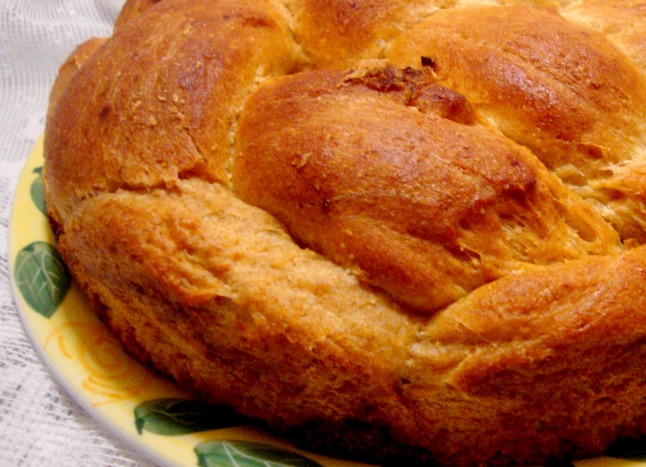 Mary Bilyeu | Contributor
A nice Jewish boy named Joel Goldberg wrote to me last year:
"I don't know if you go back in Ann Arbor this far — but a bunch of us were sitting around at Erev Rosh Hashonah dinner last night, picking at a Zingerman's challah, when I realized it had been years since I'd tasted my all-time favorite Challah: the whole wheat, sweetened-with-apple-juice version made by Wildflour Bakery, next to (People's Food Co-op) on North Fourth. It somehow managed to retain a surprising amount of the airiness of traditional Challah in the whole wheat version. Do you remember it, or the bakery?
For years, I'd stop on my way home to pick one up, still warm from the oven; we'd enjoy it over kiddush and dinner, and make sandwiches for Saturday lunch out of the remains. A sizable regular clientele did the same, enough that they might be sold out if I didn't get there close to the (highly variable) hour that the bread emerged from the oven.
Then Wildflour went out of business (mid-to-late 90's??), and the recipe seems to have been lost — or at least no one I've asked knows anything about it. So I thought that with your following / network among Ann Arbor Jewish foodies, someone might have an inkling of whether the recipe still exists, perhaps in some musty file drawer of one of the collective group that used to run Wildfour."
Well, I do go back in Ann Arbor that far; I came here in 1981, as a freshman at the University of Michigan. When Jeremy was little, in the early 1990s, we'd take him to the Farmers Market and to the Wildflour Bakery every Saturday. And I do, admittedly, obsess about Jewish food — reading about it, writing about it, researching it, studying it, talking about it, and, of course, eating significant quantities of it — along with my fellow Jewish foodies.
So, I've tried valiantly to get this recipe for Joel. It's been a year, and I'd hoped to have hunted down the holy grail for the Jewish New Year, which begins at sundown on Sept. 4. I've searched online. I've searched in library databases. I've asked around. I've sent emails. I've left voicemails. I've found nothing, gotten virtually no responses... oy. It's a shanda!
So I took Joel's next suggestion, pursuing "a hankering to tinker with turning (my) own recipe into whole wheat." In order to keep the bread light, I dared to violate the bakery's rule of using only whole grains: I combined white and whole wheat flours. But I sweetened it with apple juice, and also used a bit of vanilla soy milk because yeast breads seem to love it and rise beautifully when I do this. I also used apple juice along with an egg yolk when glazing the bread before baking it.
The challah dough mixed together beautifully, kneaded beautifully, rose beautifully ... it was perfect. Serve it with some apple slices, a little honey ... it's a perfect holiday nosh.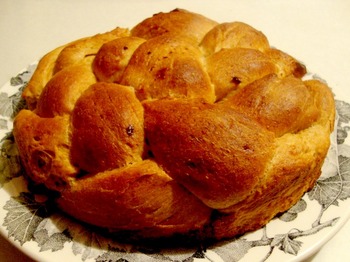 Whole Wheat Holiday Challah
2 cups whole wheat flour
3 cups flour, plus extra for dusting counter
1 tablespoons kosher salt
2 packets quick-rise yeast
1/4 cup sugar
3/4 cup + 2 tablespoons apple juice
1/2 cup vanilla soy milk
1/2 cup margarine, at room temperature
4 eggs
1 tablespoon honey
Preheat oven to 170 degrees. Grease 2 9-inch round cake pans, line the bottoms with foil, then grease the foil.
In a large mixing bowl, stir together whole wheat flour, flour, salt, yeast, and sugar.
Heat together 3/4 cup apple juice along with the soy milk and the margarine until the margarine has melted and the mixture is warm to the touch. Pour into the flour mixture.
Separate one of the eggs, reserving the yolk; add the white to the dough mixture, then beat together the remaining 3 eggs and add them, as well. Stir the dough together until blended.
Dust the counter with 1/4 cup flour and knead dough together until smooth and elastic.
Grease another large mixing bowl, then place dough into it; turn to coat all sides of the dough. Cover with plastic wrap, then top with a dish towel. Let the dough rise in the oven for 30 minutes.
Punch down the dough and knead for 2 minutes. Place back into the mixing bowl, cover, and let rise for 20 minutes.
Punch down the dough one more time, knead for 2 minutes, place it back into the bowl, and let rise for 20 more minutes.
Divide the dough in half, covering the half you're not working with. Divide the other portion of dough into 3 pieces. One at a time, roll each out to an 18-inch rope; lay the 3 ropes out next to each other, about 2 inches apart. Braid the ropes together tightly, then form into a spiral and tuck the point under. Place into one of the prepared baking pans, then repeat with the other portion of dough.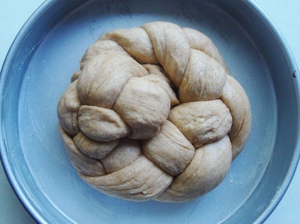 Mary Bilyeu, Contributor
Combine the reserved egg yolk, 2 tablespoons of apple juice, and honey; brush over the dough, making sure to reach into all of the nooks and crannies.
Place the pans into the oven and let dough rise for 20 minutes.
Turn the temperature up to 200F and let dough rise for 20 minutes.
Turn the temperature up to 275F and let dough rise for 15 minutes.
Finally, turn the temperature up to 350F and bake for 15 minutes, until the loaves are golden brown.
Let the breads rest in the pans for 15 minutes, then run a knife around the edges to help loosen the breads. Turn them out of the pans, remove the foil, and let cool completely on a rack. Slice and serve with butter and honey.
Makes 2 loaves.

Mary Bilyeu - a self-proclaimed Food Floozie (named for her blog, which is taking a summer vacation) - writes for AnnArbor.com on Tuesdays, Wednesdays, and Fridays, telling about her adventures in the kitchen. She is also on a mission to find great deals for her Frugal Floozie Friday posts, seeking fabulous food at restaurants on the limited budget of only $5 per person. Feel free to email her with questions, comments, or suggestions: yentamary@gmail.com.

The phrase "You Should Only Be Happy" (written in Hebrew on the stone pictured in this post) comes from Deuteronomy 16:15 and is a wish for all her readers - when you come to visit here, may you always be happy.