Posted on
Mon, May 3, 2010 : 2 p.m.
Wildcrafting: The lowly dandelion - let it live (until you eat it)
By Linda Diane Feldt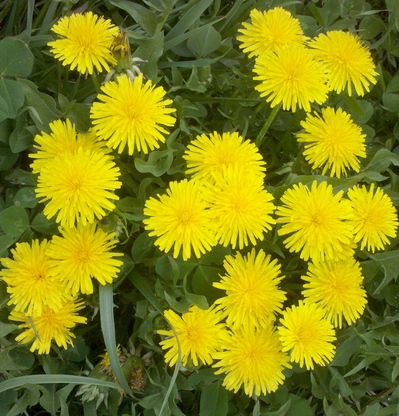 Linda Diane Feldt | Contributor
Just around the corner from my home, I have been enjoying a front lawn filled with glorious bright yellow flowers. I had been admiring their color, the bees that were visiting (some from my own hive I was guessing), and could almost taste the bright, bitter, full flavor of the leaves, the crunch of the darkly earthy and sweet roots.
A few days ago I rounded that corner to the acrid odor of chemicals. The lawn was laid to waste, every flower dead, the plants laid flat in a gory mess of poisoned turf and green. Days later and the chemical odor is still obvious.
What was the point of that?
The dandelion, Taraxacum officinale, was intentionally brought to the U.S. hundreds of years ago. Valued for food and medicine, it joins a host of other "weeds" in people's lawns that have been targeted - somewhat bizarrely - as noxious and even embarrassing. Dandelion, chickweed, plantain, chicory, yellow dock, lamb's-quarters, purslane, amaranth and mallow are just some of the common weeds that actually have great value. Also, these plants being exterminated with toxic chemicals that we know are harmful to children and pets.
These plants disturb the monotonous symmetry of a solid lawn of green grass, which requires chemicals, time, money and mowing to keep pristine. This is a high cost for eliminating the valuable plants, for the achievement of what many claim was just the simple ornamentation and proof that one can afford to keep a lawn.
Somehow it has become part of our culture to celebrate grass rather than the diversity of plants that naturally grow, or better yet a native micro-culture of meadow (that would in time replace the above mentioned weeds) and even in the city would benefit a multitude of insects, bees, birds, and other aspects of the environment.
Well that's the negative rant. What is so great about dandelions? A bitter green, the leaves can be used in salads, in stir-fries, as a pot green mixed with other vegetables, or as a garnish on sandwiches - yep, even on your hamburger in place of lettuce. I blend them into homemade salad dressing, in dips, and have even made spanakopita with dandelion greens in place of spinach. Would that make it dandekopita? I don't know. But they are also a regular part of my summer salads, and when I have enough, it's a delight simply cooked Greek style with olive oil and garlic. Yes, in most Greek restaurants you can find dandelions on the menu.
Like other bitter greens, dandelions help stimulate digestion when eaten a few minutes before or during a meal. They contain more beta carotene, which the body converts to vitamin A, than carrots. The leaves are also high in calcium and other minerals, and antioxidants. They contain vitamin C and act as a mild diuretic. The leaves and rots also provide nourishment for the liver. And of course dandelion wine can be made from the flowers, which is also enjoyed as a digestive aid and a pleasant beverage.
All parts of the dandelion are edible at all times of the year. The leaves of most (but not all) varieties are more bitter midsummer and around the time of flowering. They are the most palatable in the spring and fall. The roots are harvested in the spring and fall for their medicinal value and can be preserved in alcohol (I use 100 proof vodka) or in vinegar. The vodka makes a tincture, used a few drops at a time. The vinegar creates a sort of pickle, the root can still be eaten for the flavor but the resulting vinegar is a mineral rich potion enjoyed for its bio-availabilty.
I pick the flowers and shred them into salads (an entire dandelion blossom can be a little overwhelming for most people). Combined with violets, mustard flowers, the red buds I wrote about a few days ago, and other flowers it is a lovely little riot of color in your salad bowl. The yellow looks lovely against the many shades of greens in my salad.
Because so many people use poisons on their dandelions, don't pick them unless you know the lawn is chemical free. Don't pick them near railroad tracks, as they are frequently heavily sprayed. The same goes for dandelions under high-tension power lines. Unfortunately apartment complexes, manufactured home parks, condo associations, and other places that are "managed" also tend to spray to eliminate the valuable weeds. Don't risk harvesting from there unless you know for sure it is safe.
This is a beautiful, helpful, tasty and beneficial plant. Yes, it is a non-native and mildly invasive. The best way to control it? Dig it up and eat it. But if we want to do better in caring for our environment, we need to rethink the whole idea of lawns and grass. You can start just by letting a few dandelions live. At least until you eat them.
Linda Diane Feldt is a local Holistic Health Practitioner "providing an integrated approach to holistic health care since 1981." Linda Diane has no lawn, and grass is the most invasive plant in her yard. Follow her on twitter, contact her at ldfeldt(at)holisticwisdom.org, or view her website. Her next FREE class offered through The People's Food Co-op is May 27, from 7-8:30 at Crazy Wisdom Bookstore. The topic is local medicinal plants.