Posted on
Wed, Jan 25, 2012 : 4:26 a.m.
Winter Fruit Salad is a fresh update on a classic 50s recipe
By Peggy Lampman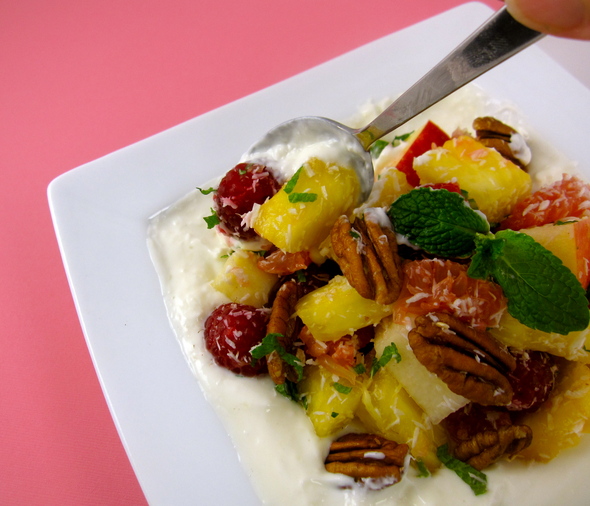 Peggy Lampman | Contributor

mean fighting machine!
My great aunts specialty was a "fruit" salad she called ambrosia, a retro salad dating back to the fifites. Webster defines ambrosia as food for the gods; something wonderful to eat and smell. Her cloying interpretation of "ambrosia" was anything but that.
She tossed canned pineapple, mandarin oranges and maraschino cherries with nuts and marshmallow fluff. I didn't like it as a child, and bless-her-sweet soul, I wince when I recall forcing it down at her table.
What qualifies ambrosia as "good", however, is subjective. I doubt she'd appreciate my substitution of yogurt and ginger for marshmallow fluff, and fresh fruit for canned. I wonder if she's rolling in her grave?
Time: 25 minutes
Number of servings (yield): 4-6 main course servings
Ingredients
28 ounces plain yogurt, strained Greek yogurt preferred
4-6 tablespoons honey or agave syrup
2 tablespoons freshly squeezed lime juice
1 teaspoon grated ginger
1/2 cup plus 1 cup grated coconut, sweetened or unsweetened
1/3 cup pineapple or orange juice
1 cup toasted walnuts or pecans
6-7 cups fresh cut fruit*
2 tablespoons fresh chopped mint, plus extra sprigs for garnish (optional)
* I used a pint of raspberries, 2 small red grapefruit, 1 gala apple, 1 pear, and a fresh pineapple. Pomegranates, grapes and bananas would be good additions as well.
Instructions
1. In a large bowl, combine yogurt, 4 tablespoons honey, lime juice, ginger, 1/2 cup coconut, juice and walnuts. Add additional honey to taste.
2. Divide yogurt between 4 large bowls. Combine fruit with remaining cup of coconut and chopped mint, if using.
3. Divide and spoon fruit over yogurt, garnish with mint sprigs if desired, and serve.
My new web site has recently been launched (www.dinnerFeed.com)! I'm a real-time food writer and photographer posting daily feeds on my website and in the Food & Drink section of Annarbor.com. You may also e-mail me at peggy@dinnerfeed.com.