Posted on
Tue, Dec 1, 2009 : 9:30 a.m.
When did healthy food become a luxury?
By Corinna Borden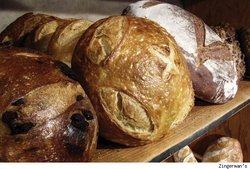 Photo courtesy of Luxist
Zingerman's Bakehouse
has won the Luxist Readers' Choice
Award
for Best Bread Bakery!

Looking through the Luxist weblog (sponsored by Cadillac) I was reminded of that quote from Mostly Harmless, by Douglas Adams, where he describes a certain space ship as one shown "in the sort of magazines that were designed to provoke civil unrest." My snarkiness aside, I was captivated by several of their articles, among them a description of wellies for royalty, pictures of Halle Barry's home in Beverly Hills, and even pictures of the annual Nantucket Island's Christmas stroll.
As I continued to devour descriptions of palatial homes in the Bahamas, I became sad.
Sad because I feel I am being told in order to choose traditionally made food, which often goes hand in hand with sustainable harvest practices, you have to live in a $15 million home in Atherton, CA. Certainly there are items at Dean and Deluca that are a special treat, but again, why are people choosing to believe that making bread with unbromated flour, a banned carcinogen in Europe and Canada, is a luxury? I am not sure when it became everyday to devour bags of Doritos mostly created in a flavor factory in New Jersey and brown rice, beans, and real cheese became a luxury but I don't think the nation's health has been helped by the shift.
It returns again to what I spoke about in my first Farm to Fork, you vote with your wallet. For me, that means choosing food that I feel is healthy: healthy for the earth (will that land be able to sustain my grandchildren?), healthy for all of the people involved with the food chain (do the tea pickers in China have health care?), and healthy for me (do I know what the ingredients look like?). If these food establishments lauded by Luxist are raising our nation's consciousness about where our food comes from, I would like to redefine their definition of luxury.
Other Luxist Reader's Choice winners include Dean and Deluca for best online gourmet, Dorothy Lane in Dayton for the best gourmet grocery store, Farmstead in Rhode Island for the best cheese shop, and Petrossian for best caviar.

Drop me a line! Check out my website! Post a comment and start the conversation rolling!