Posted on
Thu, Feb 17, 2011 : 5:56 a.m.
Frita Batidos offers Eve Aronoff's tasty twists on Cuban inspiration
By Susan Isaacs Nisbett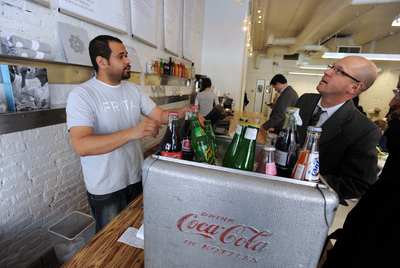 Lon Horwedel | AnnArbor.com
Comfort food rules, and burger joints are popping up everywhere, like mushrooms after a rain. Eve Aronoff, of the recently shuttered eve in Kerrytown, goes the competition one better with her new Frita Batidos, a Cuban-inspired culinary fantasia on burger-and-shake themes, in the former Café du Jour space on West Washington Street.
Coziness and crocheted curtains have given way to a stripped-down white-brick, white-floored box of a room with white, communal picnic tables and a few high counters with stools, plus one at which to order. There's a bunch of sugar cane stalks in a corner, a silvery flower-petal design high on one wall; mostly, though, the décor manages to look more clinical than tropical, and sound levels can rise to the rafters in the high-ceilinged space. Sit as far to the back as you can in this weather to avoid the draft every time the front door opens.
None of that seems to matter to the clientele crowding those picnic tables to sample Aronoff's way with burgers (aka fritas), fries, shakes (aka batidos), coffee and more. Expert frying, blending and flavor fireworks — all the brighter for the contrast with the whiteness everywhere but on the plate — explain why it's been love at first bite — or slurp — for many patrons.
RESTAURANT REVIEW
Frita Batidos
117 W. Washington St.
734-761-2882
Hours: 8 a.m.-midnight, daily. Breakfast menu till 11 a.m. weekdays, expanded morning menu until 2 p.m. on weekends.
Plastic: Yes.
Liquor: Coming soon.
Prices: Moderate, with most items $10 or less.
Value: Good.
Noise level: Can be boisterous when full.
Wheelchair access: Steps at front entrance.
I decided to jump into the experience with both feet; I ordered a luscious coconut batida — frosty but so delicious I'd order it on any 10-degree day (passion fruit is good, too) — and, plastic fork poised, awaited delivery of my chorizo frita loco to the table. (You place your order at the counter, and then, Zingerman's style, a server calls your name and delivers your food.)
Aronoff's fritas, riffs on the Cuban originals, are slim chorizo or beef patties (she has fish and black-bean versions, too) crowned with a passel of deep-gold French fries and a slather of piquant mayonnaise before a house-made brioche bun seals the deal.
"Loco" includes just about everything else in the kitchen, and I endorse this, against the better advice of any cardiologist you might consult. Go ahead, add the fried egg, muenster cheese, cilantro-lime salsa, tropical coleslaw. It's dazzling, if daunting to bite into. (If you're pinching calories, you can always put it in a lettuce wrap… as if that will do much good.)
I loved the chorizo version, and the beef got equal raves. I haven't yet tried the fish, but the black-bean version, sampled with cheese and avocado, was mushy and bland (though the black bean sides, including one with beans, coconut-ginger rice, salsa and cheese, are fabulous and seasoned to perfection).
Frying is the order of the day here, be warned, but it's done with panache for the most part. Fried plaintains, with lots of garlic and chile-mayo dip, were standouts; conch fritters were great, too, best eaten when they're piping hot. That proviso is important: You order everything at once, lest you have to re-enter the line for a second or third time; so appetizers, fritas and even the dessert you should order — the cinnamon-sugar dusted churros, either with or without hot chocolate dipping sauce — come out at once. Not all tolerate the cooling process gracefully.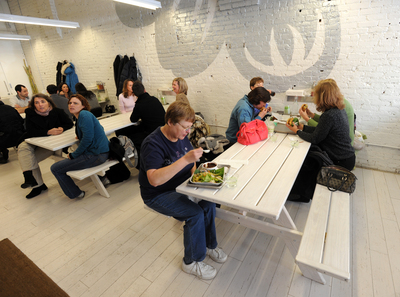 Lon Horwedel | AnnArbor.com
Drinks, while we're on the matter of service, are likely to come first of all — and you may be done with your batido, or coffee (try the "con leche" with a dense swirl of milk foam and a touch of butter and salt to awaken your taste buds) or refreshing ginger-lime juice before your meal shows up.
And while we're on the matter of drinks, it's cool, sort of, maybe, to get your lime juice or coconut water in a plastic baggie with a straw inserted into it. But practical? No, not really. I'm not sure how long this conceit will last. But the coffee window, for street-side drinkers, seems like a good idea, especially come warmer weather.
Frita Batidos goes morning to midnight every day, and breakfast has been in place for around a month now, 8-11 a.m. only; an extended morning menu, with chilaquiles, steak and eggs and tropical bread pudding, is available weekends till 2 p.m. The bacon in the morning "Basico" — two eggs any way, bacon, spicy potatoes — is thick and smoky, a treat then or in the inspired Cuban sandwich that's also a good bet later in the day. (Ingredients are carefully sourced, locally and abroad.) But the potatoes were flabby and rather greasy when we tried them recently, and another dish, an omelet filled with sweet-and-savory ground-meat picadillo, seemed misguided as well as a little oozy with oil.
You get the feeling, though, that Aronoff, on site on almost every visit I've made, will see to this. A liquor license will bring casual tropical libations, and I'd wager kinks in the service will disappear as the temperatures outside climb to a zone that matches the island vibe of Frita Batidos.
Susan Isaacs Nisbett writes about music and food for AnnArbor.com.