Posted on
Wed, Mar 13, 2013 : 5:42 a.m.
Entertaining Gallery Project exhibit explores idea of extraterrestrial life
By John Carlos Cantu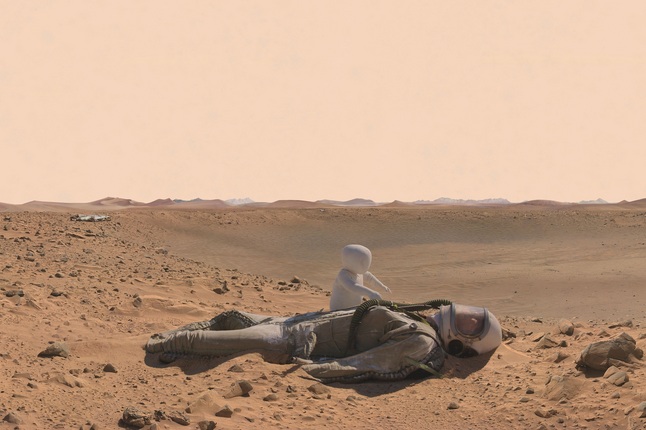 Reflecting
Gallery Project
's long-held penchant for fusing postmodern outer space with psychological inner space, "First Contact" is an imaginative trip in more ways than one.
In this multimedia exhibit, 33 regional, national, and international artists—in the gallery's words—"explore our desire to encounter extraterrestrials, our preparedness for such an event, the event itself, and its possible consequences."
The diisplay follows in line with the rich conceptual themes that have made this space a perennial favorite — as well as a perennial challenge — for local gallery browsers.
In this instance, the Gallery Project has chosen a remarkably rich theme that's not only fully in tune with contemporary society, but also fully in tune with popular imagination.
As the gallery's exhibition statement continues, "The search for extraterrestrial intelligence is in high gear. NASA's Curiosity rover is routinely beaming back photos from Mars. It recently found evidence that suggests that there was once flowing water on the planet. Scientific instruments of all manners scan and explore the heavens for evidence of otherworldly life. It seems that 'First Contact' with extraterrestrial life is inevitable. Will Curiosity be our first ambassador?
"Technological development has brought us to the precipice of first contact," concludes the statement, "but has humanity kept pace? Is our search for extraterrestrial life simply a search for answers to our own existence? A search for our creator? What makes us believe that we are prepared for a relationship with other worlds when we have difficulties on our own planet? What does humanity have to offer? Are we looking for salvation? Escape? Is it our innate curiosity or primal fear that motivates us?"
These are big words with big ideas — and the exhibit lives up to them. For these observations and artworks tie together notions of science fiction ranging from before H.G. Wells' 1898 "War of the Worlds" novel straight through last year's genre-bending "Cloud Atlas" motion picture.
Science fiction cuts across all styles and manners with a range of dystopias, utopias, horrors, mysteries, and philosophically and theologically oriented musings, whose applications run from artificial intelligence and cyberpunk to melodrama and political critique.
That makes this topic perfect for Gallery Project, because their stable of artists is predisposed to this kind of speculative insight.
On display in the exhibit are Seder Burns, Thomas Carey, Ross Carlisle, John Causland, Debra Davis, Lynda Davis, Rocco DePietro, Zeek Earl, H.R. Giger, Brad Gieske, Clifton Harvey, Mayumi Haryoto, Dan Hernandez, Nicholas Kahn, Tatiana Kazakova, Charles Lindsay, Kevin Margo, Ian Moersen, Gloria Pritschet, Simon Ray, Michael Rea, Kris Rudolph, Richard Selesnick, Sara Schleicher, Douglas Scobel, Brian Spolans, Derek Stenning, Po-Wei Su, Mike Tarr, Jacob Tebbe, Brana Vojnovic, Lynn Whitney, and Barry Whittaker. The exhibit has been curated by Burns, who is a lecturer of new media at the University of Toledo, with the assistance of Ann Arbor's Ed Weiss.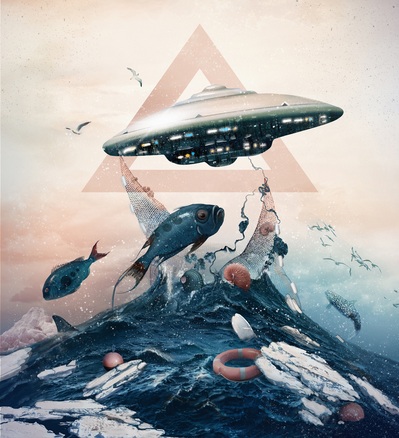 Even the relatively conventional media in the exhibit feature unconventional content. For example, Russian graphic artist Tatiana Kazakova's "UFO" features an alien attack with now-conventional tropes (an attacking space ship) mingled with fish and other jetsam. Swiss illustrator H.R. Giger (whose work for the 1979 film "Alien" forever changed the depiction of extraterrestrial life forms) has contributed a silkscreen "Playmate" portrait that depicts what an attractive feminine extraterrestrial might look like.
Brooklyn's Ross Carlisle has contributed an oil on panel mysteriously titled "A Chalkboard's Thirst" that bears a vague similarity to the fate of astronaut Frank Poole in Stanley Kubrick's 1968 "2001: A Space Odyssey." And Maumee, Ohio mixed-media artist Dave Hernandez's untitled mixed-media artwork mingles images drawn from video games with various iconographic figures envisioning yet another alien assault.
The Gallery Project has always had a fondness for spectacular installations, and Canton's Kris Rudolph has contributed a massive "Un Earthed" artwork that takes up the better part of the gallery's elevated rear alcove. It intersperses wire mesh, plaster, tile grout, willow, artificial flowers, muslin, and moss with sound to create a topography whose dimensions fit well within the exhibit's theme.
The Gallery Project has always used its basement for video works that complement the artwork upstairs. And this display is no exception, as four such art videos illustrate various aftermaths of alien contacts.
2010 Guggenheim fellow Charles Lindsay's "Carbon III" video depicts an imaginative biomorphic abstract space exploration. Kevin Margo's 2011 "Grounded" is a philosophic meditation on the consequence of a spacecraft crash landing. Venice, Calif. filmmaker Zeek Earl's 2012 "In the Pines" examines the likely psychological distress of a first extraterrestrial contact. And Taiwanese filmmaker, Po-Wei Su illustrates the possible devastating consequence of an alien visit in 2013's "The End."
But fear and anxiety are only two existential emotions studied in the exhibit. There's also a sort of optimism likely in store if we indeed make a "First Contact."
As such, the local group University Lowbrow Astronomers' real (as in functional) display handmade telescopes made by Ann Arbor's John Causland and Saline's Doug Scobel. Here, the foundation is laid for attempts to find a "First Contact." Lending the exhibit a verisimilitude, Causland's and Scobel's handsome telescopes indicate that such a future meeting is not merely a matter of fiction. Rather, it may only be a matter of time.
"First Contact" will continue through March 24 at Gallery Project, 215 S. Fourth Ave. Exhibit hours are noon to 9 p.m., Thursday-Saturday; and noon to 6 p.m., Sunday. For information, call 734-997-7012.