Posted on
Fri, Jan 6, 2012 : 5:08 a.m.
Gallery Project exhibit takes a provocative look at 'Post Apocalypse' future
By John Carlos Cantu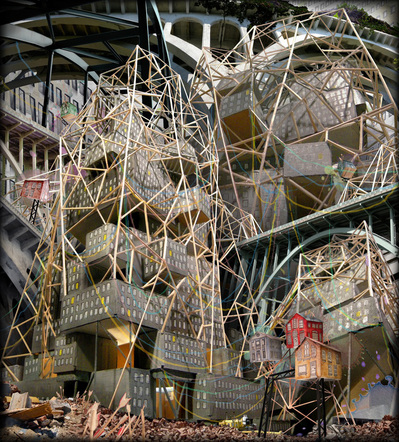 Gallery Project's latest exhibition statement provocatively asks: "What happens after the final chapter of history?"
The gallery's answer is "Post Apocalypse," a multimedia exhibit in which local, regional, and national artists explore "the aftermath of some cataclysmic event at the various levels from interpersonal to global."
This gallery has never shied away from contentious topics, and this one is sufficiently broad to allow the artists tremendous elbow room.
Gallery directors Rocco DePietro and Gloria Pritschet write, "Whether considering an apocalypse as the world without man, the fall of civilization, life after the deluge, fiscal catastrophe, personal tragedy, zombies, or religious prophecy, these are speculations and ruminations on the questions of what might follow life-altering events."
"Who, if anyone, is left to pick up the pieces?" asks the gallery, "And most importantly what happens next? 'Post Apocalypse' is an opportunity for artists to consider and investigate the actions that led us here and the changes and repercussions of those actions."
Interestingly, these artists' illustrations aren't particularly grim. Perhaps it's a natural optimism, or maybe this particular group simply doesn't have a pronounced dystopian disposition. But there's no overt negativity in this complex exhibit.
Rather, the contemplation here runs more along the line of febrile anticipation. There's a heightened curiosity on the part of many these artists that looks beyond repression in any overt manner. As a result, the 36 works of art that constitute "Post Apocalypse" are more like primers on the boundaries of Armageddon.
Local contributors include Ann Arborites Heather Accurso, Jason Demarte, DePietro, Ryan Molloy, Robert Platt, Pritschet, Jacob Saalberg, Jennifer Seibert, Brian Spolans, and Robin Wilt.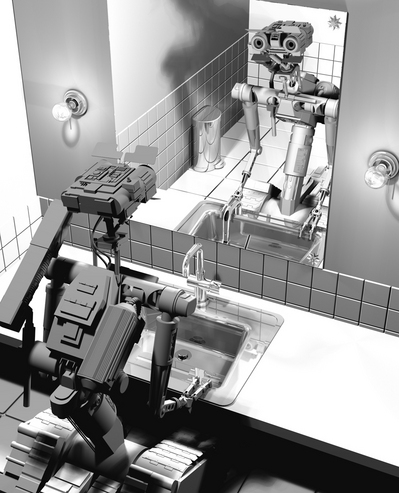 As for the art itself,
Joe Meiser
's (of Lewisburg, Pa.) three "Johnny Robot" digital prints feature an artificial intelligence whose life form vaguely resembles our own. The cleverness of Meiser's "Johnny Robot" lies in his mundane robotic existence. And this is especially the case of the print where "Johnny" stands in front of a lavatory mirror contemplating his reflection.
As old a conundrum as the Greek myth of Narcissus, Meiser updates the psychology of self-contemplation in reminding us that it's probable any post-apocalypse consciousness will be prey to the same mundane existential sensibilities that plague us.
New York City's Owen McAuley has contributed "Somniac," whose shadowy composition infers a winding-down apocalypse. The oil on canvas painting's near-impenetrable dusk features a darkened background of trees where a rutted road leads indeterminately. The issue of "somnia"—being of course, a sort of narcolepsy—lends the painting a somber tone which is certainly abetted by its appearance. There's enough of a compositional vagueness in "Somnia" to make the path unclear and this, too, can be construed as a sort of variation on the human condition.
Another such remembrance of things past is reflected in Detroiter Andrew Thompson's "We used to dance..." mixed-media. This three-chambered wood cabinet nestled in the Gallery Project's rear alcove consists of wood, wire, flashing LEDs, paint, plaster, potatoes, pennies, and galvanized nails. The cabinet's stacked potatoes have plastic wires plugged into them with all this paraphernalia leading up to a tabletop where a triangular plastic frame repetitively flickers the numerals "5" through "8" in sequential order. Oscillating electronically; "We used to dance..." dances alone.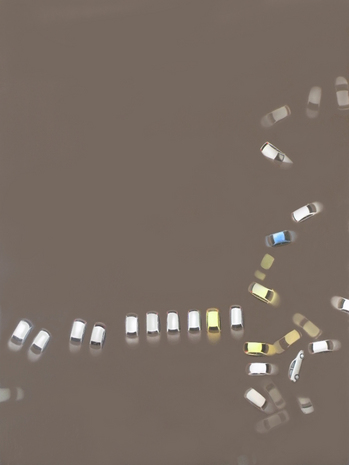 Three other works—Bowling Green printmaker
Lou Krueger
's "The Actual Birth of Venus" glicee digital photogram print; Madison, Wis.'s
Tom Berenz
's oil on canvas "Flood 3"; and Cleveland Heights printmaker
Matt Krueger
's "Beholden Are We All: The Squalor to the Splendor" archival digital print on canvas—feature apocalypses whose endings are each enigmatic.
"The Actual Birth of Venus" illustrates a multi-cellular substratum whose "birth" implies an eternal recurrence. Berenz's "Flood 3" features rows of cars sinking below muddy water. And "Beholden Are We All" is a constructionist's colorful nightmare of a vastly overbuilt, abandoned cityscape.
Yet as is typical, the Gallery Project's lower level houses the single most intriguing work of art in the display. Toledo mixed-media artist Erin Garber-Pearson has built a crushed coal, dirt, wood, paint, and video installation called "The Moving Oracle" that's as ominous as any "Post-Apocalypse" could be.
Garber-Pearson's installation, set in the middle of the gallery's basement floor, whirls in a menacing circular, stormy cascade that's hypnotic and portentous. For if this is how the world is going to end—or, at least, our portion of this cycle—then "The Moving Oracle," like all Cassandras, illuminates humanity's puny powerlessness in predicting the future—and any "post-apocalypse' thereafter is merely a figment of our fevered imagination.
"Post Apocalypse" will continue through Jan. 22 at Gallery Project, 215 S. Fourth Ave. Exhibit hours are noon-9 p.m. Tuesday-Saturday; and noon-4 p.m. Sunday. For information, call 734-997-7012.