Posted on
Mon, Sep 24, 2012 : 10:13 a.m.
Gallery Project exhibit explores the notion of 'Quantified Self'
By John Carlos Cantu
Gallery Project
's "Quantified Self" is a totally qualified success.
Ann Arbor's most fervent proponent of post-modernism, this gallery favors an artful attitude that's socially provoking, aesthetically challenging—and all nerve.
"Quantifiable Self" is one of the more consistent of their recent offerings.
There's a bit of everything iconoclastic in this far-flung display. Old-school painting and drawing sits next to new-age pondering, which sits next to art that's just hard to classify. Such adventurous wandering has come to define Gallery Project, and they've seemingly pulled out all the stops with this latest show.
Curated by Ann Arborites Colin Raymond and Kyle Kramer, the exhibit examines "how individuals collect and often project information about themselves and others in the digital world.
"Artists examine the quantified self from two unique perspectives: One, how information about individuals is collected, stored, processed, and used by these individuals and communicated to others; and two, how entities collect information about individuals and groups for commercial and other purposes.
"Examples are self-projections in cyberspace, self-monitoring of health and other behaviors, obsessive collecting of self-defining artifacts, and visualizing personal and group data."
All these examples are on display. And what they reflect is what the Gallery Project does best: Consider a conundrum in a number of differing ways, approached artistically as well as philosophically or psychologically.
According to most philosophical theories, the self is a reflective consciousness. But what would be the difference between a qualitative and quantitative self?
The title, after all, implies that the features of "self" can be objectively measured. And this is what these artists largely seem to be trying to do.
Ann Arbor artists in the exhibit include Peter G. Adamczyk, Rocco DePietro, Roland Graf, Deborah Gumucio, David Kohrman, Kramer, Collin McRae, Mark Newman, Michael Nagara, as well as curators Kramer and Raymond. Manchester's M. Royal Schroll and Ypsilanti's Jason Ferguson also have artwork on hand.
Some of these works are intriguing precisely because they are cryptic enough to seem to not closely follow the theme. For example, Collin McRae's "Re-Projection" is an interactive site-specific installation nestled in the Gallery Project's rear alcove.
Draped to darken the chamber, "Re-Projection" consists of a spidery trail of nylon thread and tree stems suspended from above while a mottled film loop is continuously projected across the alcove ceiling. This alone is environmentally challenging enough, but McRae's instructions are to hold a mirror in one's hands when entering the chamber and look down at the glass to the ceiling.
This instruction is disorienting—but it's also exhilarating. And maybe this is the idea: One's sense of self is reversed walking through what seems to be an unusually imbalanced forest. Or might it rather be that one's sense of self is reversed in seemingly walking upside down on what is rightly the ceiling?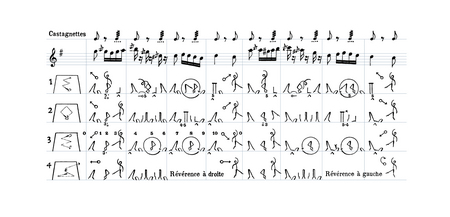 Ostensibly, a little closer to the exhibit's theme are Erica Podwoiski's "Scopophilia, Farewell to Intimacy" oil painting diptych; Laurie Frick's "Walking Week 44" cut found paper on nine wall-mounted Alumalite panels; and Edward Tufte's "Music Score with Dance Notation" digital print.
Podwoiski has contributed a life-sized, adult-themed pair of paintings that focus on the use of the digital camera to abstract the self through a photographic gaze. Frick has schematized herself through tiny cutout cardboard rectangles that trace her path through the course of seven days. And Tufte even further reduces the self through a notational schematic that illustrates the role a dancer will have to accomplish to complete a dance performance.
Non-traditional materials are represented by Peter G. Adamczyk's "Cece You're It" animation on microSD card; Roland Graf's "Rolling Shadows--Energy Plan for the Western Wo/man1" interactive assemblage; and Colin Raymond's found object "Final Tally."
Adamczyk's "Cece You're It" is part of a two-part surreal biomorphic artwork that includes a digital print on canvas and digital microSD imagery that crawls on its working surface. Graf's "Assocreation" "Rolling Shadows--Energy Plan for the Western Wo/man1" is an interactive assemblage comprised of an oversized polystyrene insulation cutout figure that has an overlay of interactive solar toy cars activated by an industrial Halogen lamp. And Raymond's found object "Final Tally" (a Detecto baby scale and large mound of ash) is a weighty interpretation of the self's ultimate demise.
Yet for sheer fidelity to "Quantified Self's" theme, it's hard to top Seder Burn's composite digital color photograph, "The Average New Media Student: Halahariellyonmaricruzkimsarahemilymorganclintonnickjasminesusanaaubreyjoekatybrittnaybarbiealijennaalyssajessicaqinadavidkylatrishaerin."
Taking a photograph of each his students and then digitally compositing them together to create a single portrait, this Allen Park teacher has yielded the ultimate "quantitative" self. And after viewing this remarkable artwork, one gains the sense it's probably time to declare "game, set, and especially—match."
"Quantified Self" will continue through Oct. 7 at Gallery Project, 215 S. Fourth Ave. Exhibit hours are noon-9 p.m. Thursday-Saturday; and noon-6 p.m. Sunday. For information, call 734-997-7012.