Posted on
Tue, Jun 4, 2013 : 10:49 a.m.
Geeks, artists and innovators to convene at 5th annual Mini Maker Faire
By Jennifer Eberbach
A "maker" can be a lot of different things. A tech geek builds robots. An enthusiast builds a ham radio. An artist creates something brand new out of recycled objects. People enjoy all sorts of DIY pursuits. The common thread is the impulse to flex creative muscles, invent, and produce.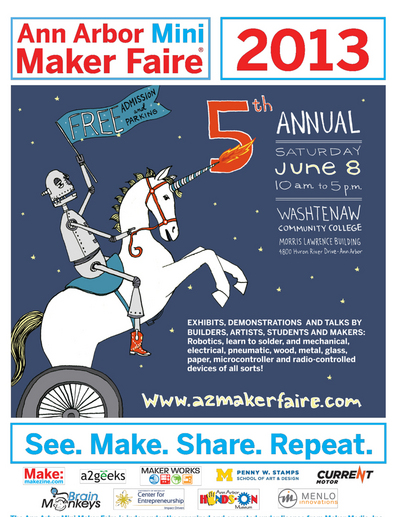 "I think the maker movement is broad enough to encompass all of it," says
Emily Puckett Rodgers
, a spokesperson for the A2 Geeks and their
5th annual Mini Maker Faire
. This year dozens of exhibitors, a lineup of speakers, and thousands of event attendees will convene at Washtenaw Community College's Morris Lawrence Building on
June 8.
"It's the tech crowd and the craft crowd, as well as artists, scientists, and all sorts of people who are makers," says Puckett Rodgers, a special projects librarian at the University of Michigan Library.
Many varieties of DIY makers will showcase their creations and educate people about how they do it. Many will engage guests with hands-on projects and some will have treats to take home.
"A lot of the exhibits are easy entrance points for both adults and kids to start learning a skill," Puckett Rodgers says.
A repeat exhibitor at the Mini Maker Faire, scientist and artist Michael Flynn, is bringing his enormous, air-filled structure "CloudBean." The inflatable Mylar balloon provides shelter, but Flynn also intended his invention to be an art project. Images can be projected onto the domed surface. "He is a great example of someone who has a science background and is also working in the art space as well," Puckett Rodgers says.
PREVIEW
Mini Maker Faire
Who: Organized by A2Geeks.
What: Fair showcasing a variety of creative projects and speakers.
Where: Washtenaw Community College, Morris Lawrence Building, 4800 Huron River Dr.
When: June 8 from 10 a.m. to 5 p.m.
How much: Free, but registration necessary online: ann-arbor-mini-maker-faire-2013.eventbrite.com/.
Another maker pursuit showcased at the event is the ham radio hobby. "A lot of what ham radio operators do is build their own radios. They have knowledge of electrical engineering and radio transmission signals." And then the payoff is, "they get to talk with all of the other ham radio operators, who are all over the world," Puckett Rodgers explains.
John Berry and the Appropriate Technology Collaborative work to create "sustainable technologies that promote economic growth and improve the quality of life for low income people worldwide," as their mission statement reads.
The final tally of exhibitors will be large and diverse. Keep posted on the event's WordPress webpage, EventBright page, or on Facebook as the event approaches.
WCC is a new location for the event—one that is opening up new possibilities, according to Puckett Rodgers.
For the first time, a series of speakers will share presentations and demonstrations. "Why to Start - or Support - Your Local Makespace" with Tom Root, "Paper Engineering" with Matthew Shlian, "A New Book Arts Maker Space" with Bound Edition, "Creating Sustainable Technologies for Low Income People Worldwide" with Appropriate Technology Collaborative, and "Rudimentary Precision" with Jason Ferguson will complement the exhibits.
The idea for the Mini Maker Faire hatched in 2009, as a maker movement was forming in Ann Arbor. Event co-founder and co-owner of Maker Works (a member-based workshop and event sponsor) Dale Grover, remembers it well.
The first Mini Maker Faire "was the result of efforts by a small group of Ann Arbor-area geeks (Bob Stack, Jim Deakins, Zach Steindler, Adam Hitchcock, and myself). We were inspired by a talk Make magazine founder Dale Dougherty gave at a local geek meeting, Go-Tech, which is still happening each 2nd Tuesday of the month, 7 p.m., at Maker Works. When asked when the Midwest was going to get their own Maker Faire - the Bay Area Maker Faire had started in 2006 - he told the group they should start their own "mini" Maker Faire," Grover writes via email.
Although there were a few other Maker Faires around the country at the time, the one in Ann Arbor definitely rode in on an early wave. It was "one of the first" of its kind, which "now number in the hundreds," Grover writes.
The event in Ann Arbor has recently become aligned with Dougherty's Maker Media. Ann Arbor's event is still hosted locally by A2Geeks and other community sponsors, but it now operates under the guidelines of the larger enterprise.
Puckett Rodgers has noticed the emergence of a "maker movement," particularly in the last 7 or 8 years. "When Make magazine came out, it put a brand around it that is recognizable to people. And I think what we have the ability to do is to connect with each other using technology, social networking, websites, and listservs. A lot of maker groups started with informal email lists," she says. "At the time, Go-Tech was just forming, Maker Works had started, and A2Geeks, although not yet a non-profit (as they later would become), were a group of people interested in what each other was doing. There was a lot of energy around it," she says.
Today, Puckett Rodgers sees the movement starting to "coalesce," she says. "I think that there is a lot of forward momentum, especially with spaces like Maker Works coming out of the woodwork. An important part of it is sharing tools. People are collectively buying the large, expensive tools. It has moved from the garage to co-owned spaces, and I think that is a big part of this movement. Everybody involved wants to share with each other, whether experiences, expertise, or tools," she explains.
The anticipation is that this year's Ann Arbor Mini Maker Faire will bring together experiences and expertise, as well. No experience is necessary to enjoy the event, but some assembly may be required.