Posted on
Tue, Jun 19, 2012 : 12:20 p.m.
Gene Kelly's daughter to speak at 'Singin' in the Rain'-themed fundraiser
By Jenn McKee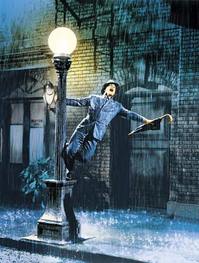 Photo by Jeremy Salo
In honor of "Singin' in the Rain"'s 60th anniversary, and the 100th birthday of the film's star,
Gene Kelly
, Paesano Restaurant in Ann Arbor is hosting a special benefit celebration on Friday, June 22, 6:30 p.m. Tickets are $50, with all proceeds going to Allen Creek Preschool in Ann Arbor.
Kerry Kelly Novick
, Kelly's daughter and one of the founders of Allen Creek Preschool, will be the special honorary guest, along with her husband,
Jack Novick
.
The evening starts with a cocktail reception on the Paesano terrace while a special Italian version of "Singin' in the Rain" is shown. A sit-down dinner follows, featuring some of Gene Kelly's favorite Italian dishes, paired with matching wines. "This is going to be a very special night for everyone who loves classic films and American musicals," said Paesano owner Mike Roddy in a press release. "We are so happy and privileged to be able to have Kerry Kelly Novick here for the evening. It should be quite an event."
"Singin' in the Rain" has become the quintessential movie musical, in part because of its technical brilliance, but mostly because of the charisma and magnetism of Gene Kelly. Unlike some kids of famous star, Kerry Kelly Novick realized at an early age just what her father did and what kind of an impact it had. "I always understood what he did because I saw him practicing routines at the house," Novick said in the same release. "I often would go to the studio with him and be there on the set and have lunch at the commissary."
One of her fondest memories is the making of "Singin' in the Rain" and Kelly's co-star Debbie Reynolds. "She let me come with her on a cookout trip. I was 8 years old and thought that was so great."
Space is limited and reservations are required on a first come basis. Call the restaurant at 734-971-0484 or find out more at paesanosannarbor.com. Paesano Restaurant is located at 3411 Washtenaw Ave., just west of US-23.