Posted on
Tue, Aug 31, 2010 : 10:49 a.m.
Get ready for Dancing in the Streets, returning to downtown Sunday
By Jenn McKee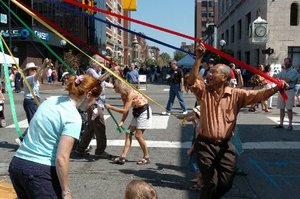 file photo
Summer's here (for a little bit longer, anyway) and the time is right for Dancing in the Streets — a free, one-day annual festival happening on Sunday, September 5 from 2-6:30 p.m. around the corner of Main and Washington streets.
Presented by Ann Arbor Community of Traditional Music and Dance (AACTMAD), Dancing in the Streets encourages attendees to try several different styles of dance, often with live music accompaniment.
In addition to beginner ballroom and swing lessons, attendees can try a Charleston or a Scottish country dance, as well as creole, Middle Eastern, Polynesian, or contra dancing; and those with little toe twinklers can take part in family dance sessions in the children's area, which also has an instrument petting zoo and a maypole.
Watch a slideshow of images from last year's Dancing in the Streets:
AACTMAD spokesperson Joan Hellman's favorite dance styles are Scottish and contra, but "I am usually running the concert area, so I don't get to see too much of the other areas," Hellman confessed via e-mail. (The concert area is on Main Street between Washington and Liberty, and this year's featured artists include The Millers, with Sheila Graziano; Laz of Gemini and Friends; Katseye; Annie and Rod Capps; and Hall and Morgan.)
PREVIEW
What: One day festival that highlights a variety of traditional and ethnic dance styles and encourages attendee participation..
Where: Downtown Ann Arbor, centered at Main and Washington streets
.
When: Sunday, September 5, 2-6:30 p.m..
How much: Free.
One of Hellman's favorite memories of the festival, now in its 13th year, involves how more than 800 community members participated in a contra line the first year, in an attempt to earn a place in "The Guinness Book of World Records." The line succeeded in establishing a new Guinness category, but because fewer than 1,000 people participated, the results didn't appear in print.
Back then, Dancing in the Streets happened every day of Labor Day weekend; but AACTMAD soon decided to pare the festival down to a single day and focus on different styles of dancing. Polynesian dancing is a new addition to the lineup this year, but "otherwise, we are repeating a successful formula," Hellman said.
Rain or shine, Creole du Nord will provide Cajun music at this year's festival; Stouthearted String Band will play for family and contra dancing; Debbie Jackson will provide the beat for English country dancing; Alistair Hayden will play for Scottish country dancing and the maypole; and II-V-I Orchestra and Five Miles More will offer swing and ballroom tunes.
And if you're wondering if there's ever confusion about the nature of AACTMAD, due to its seemingly angry acronym, Hellman noted that there was more confusion years ago about "contra dance" when Nicaragua was having its civil war. "Most outsiders who comment on our name like it," Hellman said. "Our logo of dancing instruments supports the interpretation of 'mad,' meaning happily crazy. And among folk dancers, 'mad' means 'music and dance.'"
So dig your dancing shoes out of the closet and cross your fingers for sunshine. "Weather does affect attendance, of course," said Hellman. "But we've been quite lucky with it."
Jenn McKee is the entertainment digital journalist for AnnArbor.com. Reach her at jennmckee@annarbor.com or 734-623-2546, and follow her on Twitter @jennmckee.