Posted on
Mon, Mar 5, 2012 : 10:15 a.m.
Get set to dress up, dance with wild abandon at 100th The Bang!
By Roger LeLievre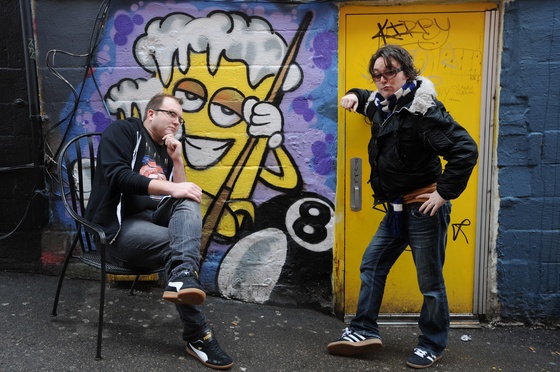 Melanie Maxwell | AnnArbor.com
The Bang!
—Ann Arbor's long-running, monthly, themed dance party—is about to mark a major musical milestone.
The 100th consecutive Bang!, where the crowd dances to carefully crafted tapes mixed by its two curators, is set for Saturday, March 10, at the Blind Pig. The theme, appropriately, will be "Diamonds Are Forever."
The first Bang! was in November 2001, a little more than 10 years ago. That such an event has continued without interruption for so long in the rapidly changing world of Ann Arbor nightlife is a testament to its organizers and to its fans, who seem to drop everything and make plans to attend every time a new Bang! is announced.
The Bang! team includes founders Jeremy Wheeler and Jason Gibner, friends since 1976. Wheeler makes the posters and they both compile the tapes (two hours of music each, changing every half-hour). They estimate they have 400 tapes in what Wheeler called "the treasure chest of big-time Bang!-ers" that they bring to each of the shows and display in the entryway.
Gibner and Wheeler called the idea of a 100th Bang! "weird" and "bizarre," and added that when they started The Bang! they had no idea it would last so long.
PREVIEW
The Bang! "Diamonds Are Forever"
Who: Jeremy Wheeler and Jason Gibner.
What: The 100th edition of this long-running local mixtape dance party.
Where: Blind Pig, 208 S. First St.
When: 9:30 p.m. (doors), Saturday, March 10.
How much: $8 (18-21, $11). Info: www.blindpigmusic.com or thebang.net.
"People keep coming. People keep having a good time. We're still having a good time. At the very first one we were thrilled anyone showed up at all," Wheeler said.
"We laugh a lot. It's really fun to spend time with our best buddies, just get stupid and throw ridiculous parties with themes," Gibner added.
Although the Pig had plenty of veterans on hand for the recent, Valentine's Day-themed Love Bang!, there were a few newbies in the crowd, including Tristan Helms, from Oakland, Calif. He said the event was better than he expected: "It's like a party with friends. There's a lack of inhibitions—it's atypical for sure."
Jessy Trudell, who estimated she's been to 30 Bang! parties even though she has to make the trek in from Troy, said the party is worth the drive. "It's not like a pretentious, horrible nightclub—everybody who comes here has a good time. There's no other place you can dress up and not get judged," she said.
Ypsilanti's Joshua Redmon, wearing a red shirt with white suspenders and matching pants, agreed. "It's just a free-for-all, fun and no judgment. Everybody comes here to have a great time and that's why I like it. … And I'm a sucker for a theme!"
Attendance at an average Bang! is around 300 people, said Gibner, ranging in age from 18-35. Most are local, and a good number are college students. Many dress to support the night's theme (past themes include RoboBang!, BlingBang!, Pajama Jammy Bang! and Back-To-School Bang!). At the Love Bang!, there were plenty of red shirts, pants and heart-shaped accessories, some bordering on the outrageous, others mildly risque. One young woman even came clad as Cupid, complete with a miniature bow and arrow.
"If 20 people dress up, that's great," Gibner said, adding that those attending the Diamonds Are Forever bash should feel free to wear clothing with a diamond theme. "That makes (the night), because they carry so much outrageous with them."
Meanwhile, Rachel Fletcher of Ann Arbor answered the question "why do you come to The Bang!?" with a query of her own. "Why would you not come? How could you not love it?" she asked. Fletcher was there with her roommate, Miranda Steffler, and both were dressed in honor of the Valentine theme. "We love getting dressed up and going crazy," Fletcher said. "No one cares what you wear or how you dance."
Although the music jumps from genre to genre (pop, rock, alternative, new wave and rap) and era (anything from the 1950s to the music of today seems fair game), one song remains constant: "Bang Bang" by Squeeze ends each party as a sing-along.
"That's become totally our anthem," Wheeler said.
Sampling of the Love Bang! Playlist: Prince - "I Wanna Be Your Lover," David Bowie - "Modern Love," The Beatles - "Twist & Shout," The Supremes - "You Can't Hurry Love," Led Zeppelin - "Whole Lotta Love," Beyonce - "Crazy in Love," Rolling Stones - "Jumpin' Jack Flash," The Beastie Boys - "Sure Shot," The Ramones - "Do You Wanna Dance," Tone Loc - "Wild Thing," Black Betty - "Ram Jam," Rod Stewart - "Do Ya Think I'm Sexy," Whitney Houston - "I Wanna Dance With Somebody"