Posted on
Sun, Nov 11, 2012 : 5:47 a.m.
The great Gilberto Gil celebrating sounds of Brazil at Hill Auditorium
By Will Stewart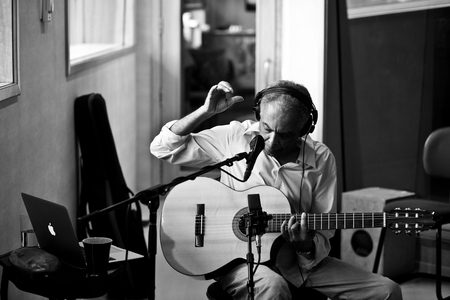 During the 1960s,
Gilberto Gil
brought Brazilian music beyond Brazil as an integral part of the Tropicalia movement that blended traditional music with psychedelic rock, soul and other elements.
Nearly 50 years and more than 50 albums later, Gil who performs Nov. 16 at Hill Auditorium, remains a giant of Brazilian music, bringing new elements to traditional music to create a singular sound that's at once global and very specific to his own unique vision.
"I think the legacy of Tropicalia is the concept of diversity and broadness itself," Gil told the Austin Chronicle this month.
"When Tropicalia took place as a movement, we had been confined to specific areas. We had samba, we had baiao, we had bossa nova, and we had Jovem Guarda, which was the first sort of rock & roll movement in Brazil. What Tropicalia did was say you all belong to Brazil. You all represent Brazilian culture. Get the Beatles, get the Rolling Stones, get Bob Dylan, get Jimi Hendrix—get it all.
"Take elements from all those sources and mix it with Brazilian ones, and that's what Tropicalia did."
It also, however briefly, spawned an international craze, with Gil and other artists, like Caetano Veloso and the band Os Mutantes finding success well outside Brazil.
In fact, both Gil and Veloso were jailed briefly, then exiled from their own Brazil during the eary 1970s, when their music was deemed a threat to the country's military dictatorship.
PREVIEW
Gilberto Gil
Who: Iconic world musician and band.
What: Music of northeastern Brazil.
Where: Hill Auditorium, 825 N. University Ave.
When: 8 p.m. Friday, Nov. 16.
How much: $10-$50. Tickets available via ums.org.
Gil returned to Brazil in 1973 and during the ensuing four decades, has established himself as an icon of Brazilian music, delving into countless indigenous styles with a creative restlessness that is remarkable as much for its consistently high quality as it is for its diversity.
During his current North American Tour, Gil, now 70, is featuring the music of northeastern Brazil and the late king of baiao, Luiz Gonzaga, whose music captures the dusty, dry inland region of northeastern Brazil known as the Caatinga.
Like nearly every other phase of his artistic pursuit, Gil brings his own inimitable style, even to a celebration of another Brazilian legend. However, he said he's trying to remain as true to Gonzaga's legacy as his own artistic vision will allow.
"I'm a lover of that culture. Musically, it's a whole different thing compared to the rest of Brazilian music," he said. "I'm one of his disciples, one of his followers and an admirer of his work."
Given all he's done to bring both traditional and non-traditional Brazilian music to a wider stage, it should come as no surprise that Gil served several years as Brazil's minister of culture. Although he left that post four years ago, he still serves as an unofficial ambassador of Brazilian culture to the rest of the world.
It's a role he continues to take seriously and said his appointment to an official role in government was a reminder that art—and music in particular—can serve as a powerful agent for social change, even in the most repressed societies.