Posted on
Sun, Feb 19, 2012 : 5:21 a.m.
Esteemed Hagen Quartet returning to Ann Arbor, Beethoven on the bill
By Susan Isaacs Nisbett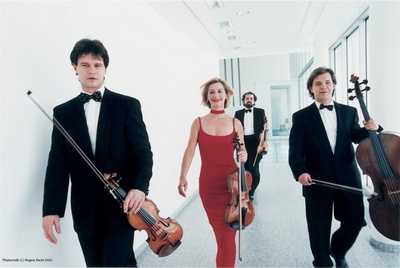 In the
Hagen Quartet
, three's a family: Brothers Lukas and Clemens play violin and cello, respectively; sister Veronika plays viola. And then, four's company: violinist Rainer Schmidt has been with the group for more than 20 years of its 30 years.
Renowned internationally for beautifully polished, probing performances, the esteemed foursome made a couple of Rackham Auditorium stops in the mid and late '90s, courtesy of the University Musical Society. The group returns Thursday, again under UMS auspices, with a program that presages the focus of the Hagen's 2012-2013 season: Beethoven. The quartet plans Beethoven quartet cycles for New York, Tokyo, Paris, London, Vienna and Salzburg.
Ann Arbor gets a little taste with a Beethoven triple bill that includes Op. 18, No. 1 - the first of Beethoven's string quartets, composed in 1801—as well as Op. 95 ("Serioso") from 1810; and Op. 74 ("Harp") from 1809. The concert is part of the UMS "Pure Michigan Renegades" series.
Was Beethoven a renegade? Violinist Schmidt took some time to answer that question and others via e-mail from Europe.
PREVIEW
Hagen Quartet
Who: Esteemed chamber ensemble.
What: All-Beethoven program.
Where: Rackham Auditorium, 915 E. Washington St.
When: Thursday, Feb. 23, 7:30 p.m.
How much: $22-$46. Tickets available through the UMS Michigan League Ticket Office, 734-764-2538, and online at ums.org.
Q. What was the thinking in putting these three pieces together on the program?
A. I personally like the idea of putting Op. 74 and 95 together in a program very much. Both were conceived in the same time, but Beethoven allowed the op. 95 publication only years later, being aware that this music would not be understood. These two pieces seem to be entirely different from each other, in form, emotion, structure. Yet only 9 years between them and 18/1, a time span where Beethoven developed many, many skills as a composer.
Q. What are the challenges/rewards of playing a program that includes only one composer, even if that composer is Beethoven?
A. I wonder if there is any other composer who would suffice for a whole evening of quartet music. Maybe Bartok, maybe Schonberg. Beethoven's development as composer can be seen exemplary through the development of his string quartets. With other composers the challenge would be to point out so much the individual qualities of each work in order to overcome the common underlying language. With Beethoven, this is not necessary in the same way.
Q. This concert is included on the University Musical Society "Pure Michigan Renegades" series. In your view, is Beethoven a "renegade," and if so, why?
A. I do understand the word "renegade," but have problems to understand the concept of it when it comes to Beethoven. No, I don't see Beethoven as a renegade, not as a political person, nor as a composer.
Q. You've all played together a long time; do you feel like part of the "Hagen" family? And in any case, what advantages/disadvantages come with a family quartet?
A. I was from the beginning treated as a family member. We all have very good relationships with each other. And we all find that important for playing with each other. Family groups often don't work out, when they do, it is harder to break up.
Q. What repertoire is the quartet focusing on currently? And I'm also curious how your approach to the Beethoven quartets has evolved over time.
A. From summer 2012 onwards, we will focus almost exclusively on all the Beethoven quartets until the end of 2013 when we will have concluded cycles in Vienna, London, Paris, New York, Tokyo and festivals in Salzburg, "Schubertiade," and "Rheingau Festival." Our Beethoven constantly evolves, like any other composer, simply by shifting priorities from one parameter to another.