Posted on
Thu, Mar 15, 2012 : 5:58 a.m.
Fiddlers at the Ark, Michigan Roots music and drama on the seas
By Ann Dwyer
HISTORY
Be sure to catch "Shipwrecked!" at the Towsley Auditorium on the Washtenaw Community College campus. Today and tomorrow, 10 a.m. and 12:30 p.m.; Saturday and Sunday at 2 p.m. "Shipwrecked!" is about a Detroit family of three who set sail on Lake Huron only to be battered by one of the fierce November storms that have made "Shipwreck Alley" famous. Other materials will be on hand to learn about our "inland seas." Purchase tickets online at www.wildswantheater.org or by phone at 734-995-0530. In the Morris Lawrence building at 4800 E. Huron River Dr., Ann Arbor. 734-677-5033.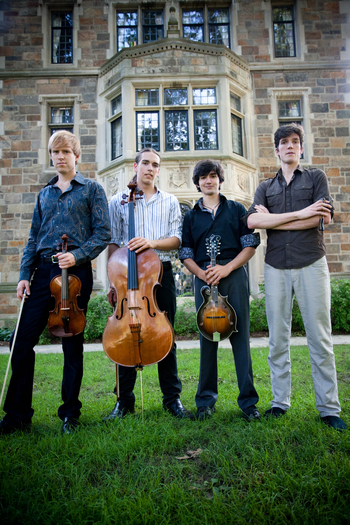 LECTURE
The Penny Stamps Lecture Series will host Brazilian artist Ernesto Neto at the Michigan Theater on Thursday. 5:10 p.m. One of his most acclaimed installations is at the Pantheon in Paris, called Leviathan Thot, featuring large, soft, biomorphic sculptures that viewers can touch, poke, and walk through. Free. The Michigan is at 603 E. Liberty St., Ann Arbor. 734-668-8397.
MUSIC
The Jeremy Kittel Band will be at the Ark tonight. 8 p.m. A Michigan fiddle virtuoso making international waves, Kittel is one of the foremost among a new breed of fiddlers and violinists who easily navigate a multitude of musical styles and traditions, while cultivating new ground and redefining the role of the instrument. $17.50. The Ark is at 316 S. Main St., Ann Arbor. 734-761-1800.
MUSIC
Hear "Music Under The Arch" with headliners Dragon Wagon at Stone Arch Arts and Events Center. Doors open at 7 p.m. Music at 7:30 p.m. Dragon Wagon is Michigan Roots music at its finest. Their performance is built on originality, fun, and expert musicianship. Extreme pianist Taylor Paxman will also perform. $20 reserved, $15 general admission, and $10 student. Purchase tickets at www.musicunderthearch.com/tickets/. SA&EC is at 117 S. Ann Arbor Road, Saline. 734-316-2118.