Posted on
Fri, Mar 2, 2012 : 5:49 a.m.
Jorma Kaukonen talks about legendary Hot Tuna, playing The Ark on Tuesday
By Kevin Ransom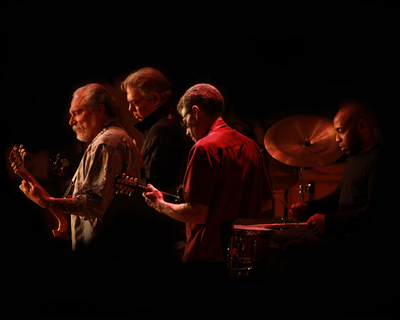 photo by Scotty Hall
Has it really been 43 years since
Hot Tuna
was founded—as an acoustic-blues side project for guitarist
Jorma Kaukonen
and bassman
Jack Casady
of the Jefferson Airplane?
Indeed it has. The year of Hot Tuna's birth was 1969, and the Tuna has kept on truckin' all these years—they still do about 100 gigs a year—while the Airplane split up in the early 1970s.
In the Airplane, Kaukonen scaled the cosmos with his psychedelic, raga-fied, fuzz-toned guitar excursions, while Casady's rumbling, often-over-driven bass provided the Airplane with one of the most muscular, high-octane rhythm engines of the era.
Early on, Hot Tuna mostly specialized in timeless, rock-ribbed renditions of classic blues tunes and Kaukonen's folk- and blues-based originals. But they plugged in and cut loose, as well: Tuna also recorded several electrified, cozmik-blooze albums in the 1970s.
And over the years, their live shows have alternated between the acoustic-country-blues format—sometimes just as a duo, but often with a third player on board—to the plugged-in rocking-blues version.
When Tuna comes to The Ark on Tuesday, we'll get the acoustic setup.
It's actually been a long time since they were just a duo, and for almost 10 years now, Tuna has also included mandolin player / multi-instrumentalist Barry Mitterhorf, who's also been playing on Kaukonen's solo albums and accompanying him in his solo shows for about that long.
"We did a long electric tour last winter, which was a pretty harsh winter, so we spent a lot of time dragging a trailer full of amps and the drum kit behind us during heavy snows," says Kaukonen. "So this winter we decided it would be nice not to have to do that again, so that's how we planned our tour schedule—but then this winter turned out to be a mild one. We are doing an electric tour in the spring, though."
PREVIEW
Hot Tuna
Who: The venerable roots-music group began in 1969 as an acoustic-blues side project for guitarist Jorma Kaukonen and bassist Jack Casady of the Jefferson Airplane.
What: The three-man acoustic version of the band, with a repertoire mostly devoted to folk-blues with countrified accents.
Where: The Ark, 316 S. Main St., Ann Arbor.
When: Tuesday, 8 p.m.
How much: $35. Tickets available from The Ark box office (with no service charge); Michigan Union Ticket Office, 530 S. State St.; Herb David Guitar Studio, 302 E. Liberty St.; or online from MUTO.
Last year's tour was to promote Hot Tuna's first studio album in 21 years, "Steady As She Goes." We know that both Kaukonen and Casady are weary of explaining why it took so long to do a studio disc, given that Tuna continued to do live shows and release live albums during that period, but we still had to ask:
"The major labels just weren't interested, so we weren't forced into doing it," replies Kaukoken, who has nonetheless stayed busy in the studio, releasing three solo albums between 2002-'09—in addition to doing his solo tours and Tuna tours. "But, because of my relationship with Red House Records for the last several years, we were able to get the budget from them for it, so we finally just said, 'Let's do it.'"
In many ways, the disc still boasts the signature Tuna sound. Some tracks showcase Kaukonen's nimble, Piedmont-blues finger-picking style, which is steeped in the influence of his mentor, the late Rev. Gary Davis. And on others, he plugs in and delivers his other sonic signature, the aforementioned fuzz-toned electric-guitar riffage.
But on several tracks, Mitterhorf's mandolin and / or the fiddle playing of producer Larry Campbell lend the music a different feel, adding a bluegrass / country-music vibe.
Campbell, by the way, is Levon Helm's music director and also played some blistering guitar in Bob Dylan's band from 1997-2004. "Steady as She Goes" was recorded at Helm's home studio in Woodstock, NY.
One difference from the Tuna records of yore, though, is that Casady's bass, for the most part, is not as prominent, or not as "active," as it was back in the day, when his agile bass work sometimes took over, to the extent that he was playing "lead bass" at times.
"Yeah, one thing I was not interested in doing on this record was re-creating the Hot Tuna sound of the past," says Kaukonen, by phone from a tour stop in Camden, Maine. "We still sound like ourselves, and I'm proud of those records, but we weren't looking to revisit that '70s ground.
"As far as the bass, I wish Jack was here to comment on that, he feels that the expectation that people have for Hot Tuna's music to still be really bass-heavy is almost an affliction that we have to overcome. He's still a great bass player, obviously, which our fans know from our live shows, but that kind of really active bass isn't always required in our music.
Some of the standout tracks on "Steady As She Goes" are the foursquare Americana-style rocker, "Angel of Darkness," and the funky, cocksure "Mourning Interrupted," which Kaukonen wrote about their roots, growing up in Washington, D.C. in the 1950s. (Kaukonen also has a Michigan connection: His father was born in Ironwood.)
Meanwhile, the robust "Goodbye to the Blues" and "A Little Faster" both rock the joint with authority. And no Tuna album would be complete without a couple of affectionate covers of Davis classics. Here, Tuna expertly puts their stamp on two Davis tunes—the syncopated, electric-gospel-blues of "Children of Zion" and the sassy, fiddle-fueled "Mama, Let Me Lay It On You."
Indeed, Kaukonen has been one of the leading proponents of Davis's music for the last 40 years
"I think the thing that has made me proudest in my career is that I turned a lot of people on to Gary Davis's work—people who otherwise might never have been exposed to it," affirms Kaukonen.
And after all these years, that's the style of music that remains closest to Kaukonen's heart.
"Country blues—the instrumentation, and the rhythms, and the tonalities—that kind of blues is always about truth, and that's what continues to inspire me, and still keeps me coming back to it. And it probably always will."
Kevin Ransom, a free-lance writer who covers music for AnnArbor.com, first interviewed Jorma Kaukonen and wrote about Hot Tuna in 1991, for the Ann Arbor News. He can be reached at KevinRansom10@aol.com.