Posted on
Sun, Nov 11, 2012 : 5:36 a.m.
It's Super Sunday at the Jewish Book Festival; the Kerrytown Shops kick off the holiday season
By Ann Dwyer
FUNDRAISER
The White Elephant Auction Fundraiser to benefit The Michigan Firehouse Museum on Sunday at Michigan Firehouse Museum will be a fun way to help a local landmark. Doors open at 5 p.m. This is when you should bring items if you decide to. Auction begins at 6:30 p.m. All auction donations must be clean and in good working order. Some ideas: Good household items, not-quite-right wedding gifts, "unique" collectibles, unused gift cards. They'll even take gourmet desserts. They already have Red Wings tickets, a Lloyd Carr signed football, restaurant gift cards, golf foursomes, a satin-lined Dracula cape, a stuffed taxidermy squirrel (!) and more. Admission: Either the donation of a "treasure" or a $10 suggested cash donation. 110 W. Cross Ave., Ypsilanti. 734-547-0663.
STORYTELLING
Tellabration is "Coming of Age" with its 21st installment at the Pittsfield Branch Library. 2 p.m. Kids and kids-at-heart can enjoy a free, enchanting family storytelling concert. Tellers are Jeff Doyle, Darryl Mickens, Judy Schmidt and Kathleen Wright. 2359 Oak Valley Drive, Ann Arbor.
SHOPPING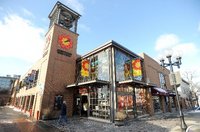 Angela J. Cesere | AnnArbor.com
The Kerrytown Market & Shops will offer their "Holiday Open House." Shops are open from 10 a.m.-6 p.m. Kick off the season with live music, art demonstrations, face painting, storytelling with Mother Goose, and pre-holiday sales from our merchants. Enjoy the shopping while you can, possibly while you are painted up like a tiger. Free admission. 407 N. Fifth Ave., Ann Arbor. 734-662-5008.
BOOKS
The Annual Jewish Book Festival continues at the Jewish Community Center. And today is the day to unpack that cape because it's the Children's Super-Hero event with Larry Tye, author of "Superman: The High-Flying History of America's Most Enduring Hero" (3 p.m.) Children are invited to dress up as their favorite superhero, have their picture taken with Superman and enjoy Superman ice-cream sundaes. $5 per person. There are other things to do, too, if you don't have kids and don't want to be a creeper. Find a complete schedule at www.jccannarbor.org. 2935 Birch Hollow Dr., Ann Arbor.
MUSIC
Any Mozart-penned opera about sexy times is of course awesome, and that is why you need to see "Don Giovanni" at the Power Center. 2 p.m. A legendary lover makes one too many notches on his bedpost in this opera masterpiece. Sung in Italian with projected translations. With the University Opera Theatre & University Symphony Orchestra. And never once will you hear "bow-chicka-wow-wow." $26/$20/$10 with student ID. Check out the preview article. Get tickets at the League Ticket Office or by calling 734-764-2538. 121 Fletcher St.. Ann Arbor.