Posted on
Fri, Aug 3, 2012 : 5:17 a.m.
University of Michigan alum James Earl Jones reflects on acting, stuttering, and 35 years of Darth Vader
By Kurt Anthony Krug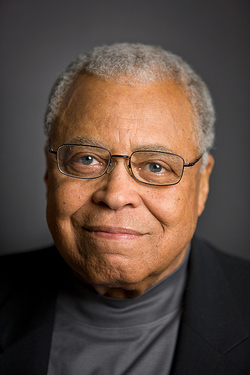 When he was younger, University of Michigan alumnus
James Earl Jones
had a stuttering problem.
"I was quite content with being silent, actually. It's not a bad place to be," said Jones, 81, of New York.
That's quite a statement from someone whose distinctive and commanding bass voice is instantly recognizable.
"I'm still a stutterer. You never quite get over it. I come to grips with it daily. In my work, I come to grips with it...Alliteration and alliterative consonants are always trouble for a stutterer and sometimes vowels are as well. It's an ongoing process," he explained.
Born in Mississippi, Jones moved in with his grandparents in Jackson when he was 5. There, he developed a stutter. He refused to speak and was functionally mute for eight years.
"How did I first start to push back, as they say? The ending of the silence was having something I needed to express—not so much my own ideas, but discovering there were beautiful things written in drama and in literature that you needed to hear. I could hear my own self saying them and that's what started me back to talking," he recalled.
Jones graduated from U-M in 1955 with an undergraduate degree in English literature. At first, he was a pre-med major. He was active in U-M's ROTC program and joined the Army upon graduation.
"When I dropped out of pre-med, I had to do something worth doing for the rest of my life because I figured going into the Army meant the end of my life. I figured I'd go into the drama department and at least I'd meet some girls, which I had not had the experience of romance at that point in my life," said Jones.
His acting career began in 1953 at the Ramsdell Theatre in Manistee, where he first played the title character in Shakespeare's "Othello" in 1955. He moved to New York after the military, continuing his acting career.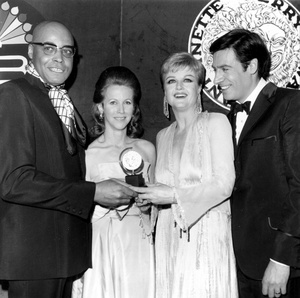 Jones won Tony Awards in 1969 for "The Great White Hope" and in 1987 for "Fences." He was nominated for a Tony earlier this year for "The Best Man."
"I was in the wrong category and we knew it. My producer asked if I could be presented as a nominee in the featured actor category because I'm an actor in 2 acts of a 3-act play. At no time should I be considered a leading actor, but the Tony committee insisted on putting me in the leading actor category. Big mistake. I got in the way a lot of other actors, who should've been in that category but I took their seat. It wasn't an ideal situation to be a nominee. It's all about categories. If you don't belong in a category, it's just nonsense, but we're not the ones to always decide those things," he explained.
Jone has been nominated for numerous awards besides Tonys. He has won three Emmy Awards, one in 1991 for the short-lived TV series "Gabriel's Fire." He portrayed Gabriel Bird, a wrongly convicted cop who's exonerated after 20 years in prison and now works as a private investigator. Its title was changed to "Pros & Cons" for the second and final season.
"It was a good series. It had great potential. We filmed the pilot in Chicago. We had twice as much time (as) ordinary—we had two weeks per episode instead of one. We had a good crew and a good team of actors. I had the experience of both police training and convict training. It was great fun working with Richard Crenna," he said.
Last year, he was given an Honorary Academy Award by Ben Kingsley. When asked to comment, Jones replied: "I won an honorary Oscar—that's my comment. What else can I say?" He laughed. "It's an lifetime achievement award in films. It was handed to me by (Kingsley), who's a wonderful actor."
When "Star Wars" creator George Lucas hired him to play the voice of Darth Vader for the original trilogy (David Prowse played Vader in costume), Jones didn't want to receive credit for 1977's "Star Wars" and 1980's "The Empire Strikes Back." However, he did for 1983's "Return of the Jedi" (the latter two were co-written by fellow U-M alumnus Lawrence Kasdan).
"I was only special effects. I was only the voice. Prowse did all the work—he was in the hot costume, he did all the action and all the work. I just added the voice—that's just special events. I decided to take credit in No. 3 because I knew Darth Vader was going to die. Until then, I didn't want credit," he said.
"I'm very proud to be remembered for (Vader). (Prowse) has an accent that's southwest of London… Mainly, it was a different pitch. Lucas wanted a lower voice, a bass voice. He thought of using Orson Welles, then he decided he'd be too recognizable, so he chose a guy from Mississippi who used to stutter and that was me. I got the job."
"Star Wars" turns 35 this year. Vader and his son Luke Skywalker were the center of the original trilogy. And in the controversial prequels that were released in 1999, 2002, and 2005, respectively, Vader (portrayed by Jake Lloyd and Hayden Christensen in the latter two films) took center stage alone.
It is unclear if an uncredited Jones voiced Vader at the end of 2005's "Star Wars—Episode III: Revenge of the Sith" when he first dons his famous black armor and cape, or if Lucas used it from a prior recording. Jones refused to comment. When asked why, he replied simply: "I just don't." However, he offered his perspective on why Vader is such a well-known character:
"Villainy. People are astonished by—if not admiring of—the power of evil. Most of us are impressed by anything that has power, even the power of evil. You have many religious leaders and cult leaders, for instance, with immense power and magnetism. How do they attract their flock? Because their flock needs to be associated with that power, the same with cults, as well. It's always been that way in history.
"It's unfortunate perhaps that we become victims of the power-pushers. Darth Vader's one of them. I'm always surprised that young kids like him. That's more understandable than adults because kids are powerless. They'd love to be able to squeeze someone's neck until they shudder to death."
As for what's next for Jones, he won't say anything until a contract's signed. However, he has no plans to quit acting any time soon.
"I'm a journeyman actor. It's like any other job: You look for work, you find work, there's nothing fancy about it," he said. "I'm still working and still welcoming work and still looking for work. I look back all the time. Success for me is a process, and rehearsal of play, for instance, is really the process of work."