Posted on
Thu, Feb 16, 2012 : 9:12 a.m.
Jazz at Lincoln Center Orchestra will mark Wynton Marsalis' 50th birthday with Hill Auditorium show
By Roger LeLievre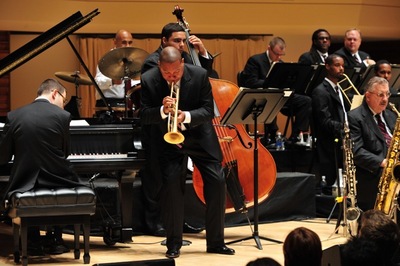 Last winter, when the
Jazz at Lincoln Center Orchestra
was booked to play in Ann Arbor, a blizzard prevented them from traveling to town. The way the weather's been this year, the group, led by
Wynton Marsalis
, will probably make it here just fine, and they'll have something more to celebrate than just their successful arrival.
The acclaimed, 15-member jazz ensemble is touring to mark Marsalis' 50th birthday with a program that showcases a retrospective of Marsalis' music written for big band. The group will perform Wednesday at 7:30 p.m. in Hill Auditorium under the auspices of the University Musical Society. This concert marks Marsalis' 14th UMS performance.
"We've been celebrating (Marsalis' birthday) since October," said Victor L. Goines, who plays saxophone and clarinet for the JLCO. "Fifty years encompasses a lot of music, a lot of possibilities. It's definitely a diverse show; it allows us to go in various directions."
Goines has been a member of the Jazz at Lincoln Center Orchestra and the Wynton Marsalis Septet since 1993. Currently, he is the director of Jazz Studies/professor of music at Northwestern University.
PREVIEW
Jazz at Lincoln Center Orchestra
Who: Leading jazz ensemble led by Wynton Marsalis.
What: A retrospective of Marsalis' music written for big band, to celebrate his 50th birthday.
Where: Hill Auditorium, 825 N. University Ave.
When: 7:30 p.m. Wednesday, Feb. 22.
How much: $10-$54. For tickets or additional information, contact UMS at 734-764-2538 or online at www.ums.org. Tickets may also be purchased in person at the League Ticket Office, 911 N. University Ave., Monday-Friday 9 a.m.-5 p.m., Saturday 10 a.m.-1 p.m., closed Sunday.
Although the program changes from concert to concert (and sometimes even mid-show), he said recent programs have included songs from Marsalis' 1986 work "Black Codes From the Underground" and the Pulitzer Prize-winning "Blood on the Fields."
"We've done pieces from throughout his whole history both small group and large. All is fair game," Goines said. "That's the best way to put it."
The hugely popular Jazz at Lincoln Center Orchestra has been the resident ensemble of Jazz at Lincoln Center since 1988. Marsalis is the recipient of nine Grammy Awards. In 1983 he became the only artist ever to win Grammy Awards for both jazz and classical records; he repeated this distinction by winning jazz and classical Grammy Awards again in 1984. He is also the only artist ever to win Grammy Awards in five consecutive years (1983-1987). Honorary degrees have been conferred upon him by more than 25 of America's leading academic institutions.
But even with all that he's accomplished so far, it seems like Marsalis is just hitting his stride.
"Don't tell him he's 50—he definitely hasn't slowed down," Goines said. "It seems like he's added more to his plate. One of the most recent things he's added is cultural correspondent to CBS News (on "CBS This Morning" and "CBS Sunday Morning"). …The schedule he keeps is one few would desire and no one would really ask for. Few would be able to maintain it."
As an educator and as a performer, Marsalis is like no other, Goines added, although it can be difficult to separate the two.
"The thing that's really unique about him is his ability to really identify both strengths and weaknesses in the blink of an eye. … Your true knowledge and ability to educate comes about when you have the opportunity to be in the room with someone and assist them in whatever their challenges might be, music or life. He is extraordinary in that regard, being able to really look into what's going on in their life at that particular time and add suggestions that would hopefully make them a better person as well as a better performer. He's truly been a major contributor.
"From a performance point of view, his legacy and his music speak for themselves. He's been documented extensively over the years in both classical and jazz, he opted to go obviously into jazz. That's what he loves. … It was just a choice, it's what all of us aspire to, to have a choice. And he chose to be a jazz musician. And I think the musical world is better for it," Goines said.