Posted on
Sat, Mar 10, 2012 : 7:55 a.m.
'John Carter' offers action but not much else
By AnnArbor.com Freelance Journalist
John Carter
Now showing at Rave, Quality 16, Brighton
Review by Jeff Meyers of the Metro Times
Grade: B-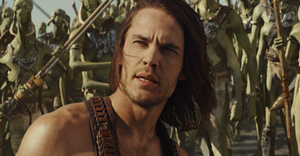 Dramatic momentum. It's harder to build than you might think. All the gee-whiz digital effects in the world can't compensate for stories or characters that fail to emotionally and viscerally connect with their audience. It takes a real gift for storytelling and a mastery of vision to create an epic-scaled adventure that dazzles the eye and seizes the heart in equal measure. Peter Jackson ("Lord of the Rings") and James Cameron clearly have it. Ridley Scott ("Gladiator") and, hell, even Mel Gibson ("Braveheart," "Apocalypto"), have also shown they can deliver. Unfortunately, Oscar-award winning director
Andrew Stanton
("Wall-E," "Finding Nemo") will not be joining that list.
Read the full review here.