Posted on
Tue, Jul 16, 2013 : 5:34 a.m.
Josh Groban event to screen at Quality 16 and Rave
By Jenn McKee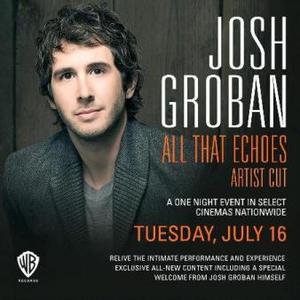 "Josh Groban: All That Echoes, Artist Cut" will be broadcast to Ann Arbor's Quality 16 and Ann Arbor 20 theaters, on Tuesday, July 16 at 7:30 p.m.
Check out the press release for full details.
With overwhelming fan demand continuing for Josh Groban's No. 1 album released earlier this year, one of the most powerful voices in modern popular music is returning to the big screen in a special edition of "Josh Groban: All That Echoes Artist Cut." This special event, a personal collaboration between Josh Groban, Warner Bros. Records and NCM Fathom Events, will hit select movie theaters nationwide on Tuesday, July 16 at 7:30 p.m. local time, with an updated welcome message to movie theater audiences from the singer. Groban was up-close and candid with fans during the original February 4 premiere event, broadcast from New York's famed Lincoln Center, where he performed hits and selections from his just-released album "All That Echoes," which debuted at No. 1 on the Billboard 200. In addition to his original February Q&A session with fans who texted and tweeted from around the country, updates to this special encore will include a very special behind-the-scenes journey through the creative process of the making of "All that Echoes" as seen through the eyes of Groban himself.

Tickets for "Josh Groban: All That Echoes Artist Cut" are available at participating theater box offices and online at www.FathomEvents.com. For a complete list of theater locations and prices, visit the NCM Fathom Events website (theaters and participants are subject to change). The event will be broadcast to more than 425 select movie theaters across the country through NCM's exclusive Digital Broadcast Network. This cinema event was produced by Live From Lincoln Center, a Lincoln Center Media Production.

"The Fathom event featuring the concert 'Live from Lincoln Center' was such a wonderful experience for me and we want to do it again! The event will include a lot of new footage, a huge amount of behind the scenes of the making of "All that Echoes" and everything that went into it," said Josh Groban. "If you weren't able to go last time, maybe you can come this time, and if you did go last time and you want to do it again, come bring a friend."

Fans attending the initial event in more than 500 U.S. movie theaters on February 4 were among the first to hear Groban's new songs performed live, as well as request songs to be included in the playlist that the singer performed at the Allen Room, which features a stunning 50' x 90' window overlooking Central Park. Groban co-wrote seven of the 12 tracks that appear on "All That Echoes," which also includes five covers, such as Stevie Wonder's "I Believe (When I Fall in Love It Will Be Forever)", Glen Hansard and Marketa Irglová's "Falling Slowly" (the Oscar-winning song from the film "Once"), and Jimmy Webb's "The Moon's A Harsh Mistress." Special guests on the album include Grammy-winning trumpet player Arturo Sandoval on "Un Alma Mas" and Italian superstar vocalist Laura Pausini on "E Ti Prometerro."

"Fans in movies theaters across the country simply loved Josh's original, live concert event broadcast this past February," said Dan Diamond, senior vice president for NCM Fathom Events. "For one more night, Josh Groban fans can experience that magic again and see new bonus features created for this encore performance that will leave them wanting even more."

Josh Groban has sold over 25 million albums and DVDs worldwide, and ranks as Billboard's 14th top-selling artist of the 2000s—with more than 20 million units sold in the U.S. alone. He is also the only artist to have two albums appear on the Top 20 best-selling albums list of the past decade. In November 2010, Groban released "Illuminations," which debuted at No. 4 on the Billboard's Top 200 chart (Groban's fourth consecutive Top 5 chart bow), and reached platinum status just two months later. In the year following the release of "Illuminations," Josh completed an 87-city "Straight to You" World Tour, and appeared in the feature film "Crazy, Stupid, Love," as well as NBC's "The Office."
Jenn McKee is an entertainment reporter for AnnArbor.com. Reach her at jennmckee@annarbor.com or 734-623-2546, and follow her on Twitter @jennmckee.