Posted on
Mon, Jan 30, 2012 : 5:50 a.m.
'Kevin Smith: Live from Behind' live broadcast coming to Quality 16
By AnnArbor.com Staff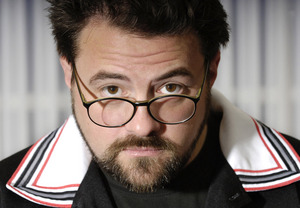 Following his highly popular one-man-show format, director/writer/podcaster
Kevin Smith
will discuss anything and everything when he takes over the big screen with "Kevin Smith: Live From Behind, Featuring 'Jay and Silent Bob Get Old,'" a one-night-only in-theater podcast event on Thursday, Feb. 2 at 9:30 p.m.
Broadcast to select movie theaters nationwide live from the Scotiabank Theatre in Toronto, Ontario, this special three-hour event will begin with Smith and frequent co-star and longtime friend, Jason "Jay" Mewes, hosting their highly rated podcast, "Jay and Silent Bob Get Old." The evening will then switch gears as Smith takes the stage to tackle a wide variety of topics and issues during a live interactive, fan-generated Q&A with theater audiences across the country. For the first time, fans will have the opportunity to drive the conversation as they submit their questions and interact simultaneously with Smith live via social media networks throughout his unique "tell it like it is" stage show.
Presented by NCM Fathom and AK27 Productions, tickets for "Kevin Smith: Live From Behind Featuring 'Jay and Silent Bob Get Old'" are available at participating theater box offices and online at www.FathomEvents.com and www.ak27productions.com. The event will be broadcast to more than 300 movie theaters across the country through NCM's exclusive Digital Broadcast Network. Locally, the event will be broadcast at Quality 16, at 3686 Jackson Road.
"Doing something like this means you can get the event into a theater in a very small town. We may have never been to that small town, but we can be with this Q&A event," said Smith in a press release. "I can be like 'Hey man, I'm going to be on the screen soon, pop into a theater and check it out.' That's kind of magical. The very ability to do that on a wider level now, instead of just doing it one night only in this city, in this theater, … I look forward to it!"