Posted on
Sun, Dec 20, 2009 : 4:58 a.m.
Keystone Underground poised to become Ypsilanti's latest hot spot
By Roger LeLievre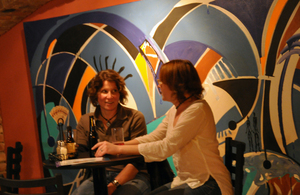 Roger LeLievre for AnnArbor.com
It's funny how sometimes a detour down a flight of stairs can lead someplace unexpected. That's the case at Ypsilanti's
Keystone Underground Martini Bar
, located beneath
J. Neil's Mongolian Grille
in the old Kresge building.
Situated in the downtown entertainment district that also includes Pub 13, Club Divine and the Tap Room, Keystone quietly opened its doors last summer. It's still low key — scant signs mark its presence and a dedicated web site has yet to be launched.
"I like that it's hidden, not advertised," said Melissa Smith of Ypsilanti Township, who was hanging out with friends on a recent Saturday night. "I like the architecture, the arches — it's got a real warm feeling. And I like the artwork," she added.
The architecture to which she is referring is the room's exposed red brick, which gives the space a warm feeling that's accentuated by red and yellow lighting. The painstakingly restored arches add a graceful sweep to the room and the cool art hanging on the walls comes from the What Is That gallery across the street.
All in all, it's a cozy and smoke-free space, with a bar on one end and space for a live entertainment at the other. Acoustics are surprisingly good, and the music is played at a volume high enough to please the dancers, yet allow for sane conversation at the bar. There's lots of room to spread out, perhaps because word has yet to spread about the Keystone.
Maybe the recently introduced $5 martinis (there are around 150 possible flavor combinations) will change that.
"I think it's catching on. I figure after the holidays when the college kids come back this is going to be the next big place to hang out," said Jeanette Stevens of Ann Arbor (full disclosure: Her husband was one of the DJs spinning the night that AnnArbor.com visited). "It's got great acoustics and a unique atmosphere you don't really find in Ypsilanti. (And) it's cozy and sophisticated."
The Keystone is also where local jazz group the Paul Keller Orchestra landed after the Firefly Club closed. The piano that was once located at the Firefly now has a new home at the Keystone, and Keller and his group hold court there every Monday night.
"I'm super happy with the sound of the music down there," Keller said. "I think that because of the shape of the room, and the height of the ceiling … it helps create a nice acoustical sound in. … The big band has never sounded better. In all the three different places we've played, I think this is the best sound."
On Wednesday, an anything-goes open mic is just getting going.
Jazz is also on tap on Thursdays with the Doug Horn Trio, roots music is on the menu on Fridays, and electronic music is featured Saturdays, which have a different vibe each week, depending on who's spinning. For now, the Keystone is closed on Sundays.
The Friday roots night, hosted by Don Sicheneder from the local band DragonWagon, has already included local favorites such as Back Forty, Gas for Less and Nervous But Excited. The headline band plays from 10-11:15, then there's an open jam for musicians until midnight, then the headliner closes the night. To sweeten the deal, Pabst Blue Ribbon is just a buck.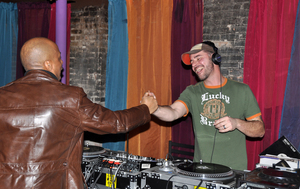 Roger LeLievre for AnnArbor.com
"I just like the energy," said Ypsilanti resident Bethany Schultz, who lives nearby and has been busy recruiting all her friends to check out the Keystone. "It's a real gem, it's very unique to Washtenaw County — there's no other space like it. … When I walk down those stairs I feel like I just stepped into New York. I feel like it's that kind of club, with the kind of energy and music the DJs are spinning down there, they are kickin' Ypsilanti up a notch."
Candace B. Pinaud of Ypsilanti agreed. "It's the local flavor du jour … any business right now that taps into local roots succeeds — that's what people are looking for. Things are happening in Ypsilanti."
J. Stevens (aka DJ 45), of Ann Arbor, thinks the Keystone has a great future.
"It's hip, it's young, and has a good vibe. It's only going to get better as it catches on," he predicted.
Keystone Underground Martini Bar What: New nightspot is the latest addition to Ypsilanti's busy night life. Where: 200 West Michigan Avenue, Ypsilanti, beneath J. Neil's Mongolian Grille. How much: Cover varies for live music; no cover for DJs. Info: 734-544-9960; J. Neil's Mongolian Grille web site.
Roger LeLievre is a freelance writer who covers entertainment for AnnArbor.com.