Posted on
Tue, Apr 10, 2012 : 10:18 a.m.
Laith Al-Saadi: the hardest working man in (Ann Arbor) show business?
By Will Stewart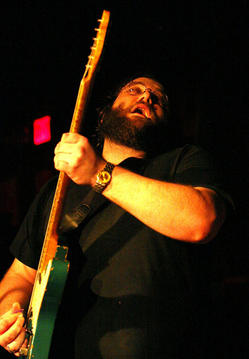 photo by Steven Sexton
He was singing in the Boychoir of Ann Arbor at age 4 and picked up his first guitar when he was 13.
When his high school friends were flipping burgers for comic-book money, he was gigging regularly with the Community High School Jazz Band and, by, 18, he'd already toured the Netherlands with his then-band, Blue Vinyl.
Ask Laith Al-Saadi and he'll tell you: All he's ever really wanted to do is play music.
"Yeah, I guess I always knew I was going to perform," the 34-year-old singer-guitarist said during a recent chat over tea at Sweetwaters. "It's just kind of always been what I do."
Pick a night of the week and chances are, Al-Saadi is playing somewhere. With weekly gigs at Melange, Bar Louie, and the Black Pearl—plus frequent trips out of town, out of state and out of country—he's unquestionably one of the busiest working musicians in the area.
"Nothing lights a fire under you quite like the threat of having to get a day job," he joked about his busy schedule.
And he'd know; he hasn't had a "real job" since he was 16.
"I just feel fortunate to be able to do what I love for a living," he said. "I don't take it for granted for a second."
Laith Live
Although Laith Al-Saadi often plays weekend gigs at various area venues, you can be sure to catch him at one of his regular weeknight appearances:
Tuesdays: Starting at 7 p.m. at Black Pearl, 302 S. Main St., Ann Arbor.
Wednesdays: Starting at 8 p.m. at Bar Louie, 401 E. Liberty St., Ann Arbor.
Thursdays: Starting at 8:30 p.m. at Melange, 312 S. Main St., Ann Arbor.
In fact, for all his local omnipresence, Al-Saadi may very well be the guy being taken for granted. While his local shows are popular and his reputation among club owners and bookers is stellar, Al-Saadi can travel a few hours away to, say, Traverse City, and pack a 350-capacity club two nights in a row. He can do the same in Amsterdam. Or Los Angeles.
But here at home, he's a such a fixture that his considerable skills can be overlooked.
"I love Ann Arbor and I love that we have such an eclectic scene here," he said. "But sometimes it's hard to get people to come out to the shows."
But with three albums to his credit, as well as having opened gigs for B.B.King, Luther Allison and Taj Mahal, among others, Al-Saadi is a lot ore than just busy.
He's good. Real good. Good enough to hold his own with just about any guitar slinger in town, while maintaining the low-key good nature of a guy you might jam with in your basement for fun.
Al-Saadi plays a mixture of original tunes and covers, ranging from the Beatles to Joni Mitchell to Bob Dylan and beyond. It's good-time, beer-drinking music, based in classic rock and the blues, which, Al-Saadi is quick to acknowledge, provides the foundation for most of what he does.
"I'm a huge Beatles fan and I've always gravitated to music from, let's say, 1964-1974—from Motown to jazz to rock," he said. And when he began to explore the influences of some of his favorite bands, that led him to previous generations of bluesmen, who have similarly informed his own music.
"I've never really thought of playing covers as "playing covers,'" he said, referring to a tendency of musicians to look down their noses at colleagues who play other peoples' tunes.
"I love the idea of playing music people want to hear and trying to do what you can to put your own kind of spin on songs that everybody knows."
Al-Saadi's chosen path hasn't been without its sacrifices. It isn't an easy life scuffling for gigs, staying up all hours, and sleeping while everyone else is awake.
"Life can just kind of pass you by if you let it," he said. "Choosing to live the life of an artist is selfish on some level, and it really isn't very practical in terms of things like not having insurance and not really being able to settle down.
"But I don't think too much about the downsides, because this is whatI've always wanted to do."
2012 is shaping up to be a busy year for the snger-guitarist. In addition to his rigorous local schedule, he'll likely be hitting the festival circuit during the summer months.
Then there's the issue of the three or so albums of new, original material he's planning to record and release before the year is out.
But for the kid who never envisioned doing anything else, that's the right kind of busy.
"All I can do is make sure the music I play is as good as it can be and that I'm making people as happy as I can make them," he said.
For more information, see Al_Saadi's website, www.laithmusic.com/.